As the search for increased comfort within our homes grows, the allure of a quiet ceiling fan becomes increasingly attractive. Selecting the best quiet ceiling fan is a consideration not only of style and functionality but also of household peace. A noiseless fan can significantly enhance your living environment, whether for a serene night's sleep or a distraction-free work-from-home space.
With a variety of models and designs available, making an informed decision is key to finding a solution that perfectly fits your needs. This article aims to arm you with the essential knowledge to navigate your options successfully.
Our pick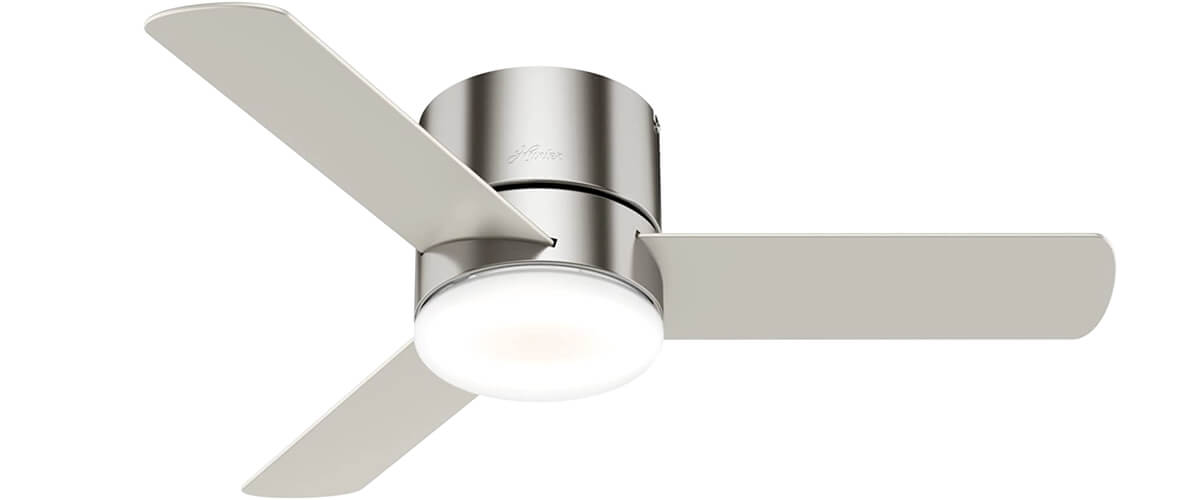 Hunter Gilmour
Best quiet ceiling fan
Hunter Gilmour is a 44-inch low profile ultra quiet ceiling fan with energy-efficient light and remote control that will keep the interior home current and inspired and the air always fresh.
Read the full review
.
Quiet ceiling fans comparison table
Name
Wattage, W
Size, inch
Blades
Reversible motor
Remote control
Review
Hunter Gilmour

best overall

42
44
3
yes
yes
Review
Honeywell 50197

also a great choice

60
44
5
yes
yes
Review
Ohniyou Small Modern Ceiling Fan

top for bedroom

30
21
3
yes
yes, app operable (Wi-Fi)
Review
YUHAO 52-1001

for large rooms

65
52
5
yes
yes
Review
What to look for in the quietest ceiling fan?
Moving forward, we delve into the characteristics that define the quietest ceiling fan. Our focus will be on the key factors to consider during your selection process, ensuring that your choice delivers the level of quietude and performance you require. So, let's explore these factors in detail.
Motor quality
When deliberating on the motor quality, two primary types come to the fore: Alternating Current (AC) and Direct Current (DC) motors. Traditionally found in most ceiling fans, AC motors utilize the AC current from your home's electrical system to power the fan blades. Despite being generally less costly than their DC counterparts, AC motors fall short in terms of energy efficiency and noise reduction.
On the other hand, DC motors, a more recent innovation, have been gaining popularity in the world of ceiling fans. Their usage of direct current allows for superior control over motor speed and power consumption. Notably, DC motors excel in energy efficiency and operate with less noise compared to AC motors.
As you embark on the quest for a quiet ceiling fan, models equipped with DC motors may prove to be an excellent choice. While they may come with a higher price tag, their advantages in energy efficiency, speed control, and, most importantly, quieter operation can make them worth the investment.
Blade design
The blade design is another critical attribute in your search for a serene ceiling fan. It holds the power to dictate not only the ventilator's airflow but also the noise it emits.
To start with, the shape of the blades is a significant player in the game of aerodynamics and noise. Paddle-shaped, oval, or curved blades are often chosen for their adeptness at moving air smoothly while keeping decibel levels low.
On the matter of size, larger blades are known for their prowess in moving more air. However, they can also be a source of additional noise. Therefore, it's important to align the blade size with the room's dimensions where the fan will be installed, ensuring effective air circulation.
Materials matter too. While metal blades might have an industrial appeal, they are usually noisier than their wooden or plastic counterparts. Opting for a model with blades constructed from noise-reducing materials can be a smart move toward a quieter environment.
Lastly, the blade pitch – the angle at which the blades are fixed, holds sway over the fan's noise and airflow. A blade pitch ranging from 12 to 15 degrees is often recommended for a quiet yet effective air movement. By considering these factors in your selection, you're one step closer to a peaceful and comfortable living space.
Mounting system
A key, yet often underestimated, aspect of choosing a quiet ceiling fan is the mounting system. This vital component governs not only the unit's stability but also its vibration and, by extension, noise output.
Several mounting types are at your disposal, including the flush mount, downrod mount, and angled mount. Each of these has its own impact on the fan's equilibrium and vibration levels. Picking the right mounting system, tailored to the height and slant of your ceiling, can go a long way in enhancing performance while suppressing noise.
In scenarios where a downrod mount is your choice, the quality of the downrod leaps into prominence. Aim for a robust downrod, preferably crafted from steel, as it outshines lighter or fragile materials in minimizing vibration and noise.
Further adding to the tranquility, some ventilators boast of anti-vibration features like rubber grommets or insulating mounts. These elements are designed to absorb vibrations, thereby reducing the noise output. When scouring for a quiet ceiling fan, models with such noise-dampening features can be a beneficial consideration.
Noise rating
Look for a ceiling fan with a lower decibel (dB) level. Models boasting a noise level of 60 dB or less fall into the 'quiet' category. However, it's worth noting that this rating isn't static. It can fluctuate depending on the fan's speed and settings. Therefore, it's advisable to verify the noise levels at various speeds to get a comprehensive understanding of its performance. This extra step can provide you with a more accurate picture and help you choose a fan that genuinely complements the tranquility of your living space.
Best quiet ceiling fan reviews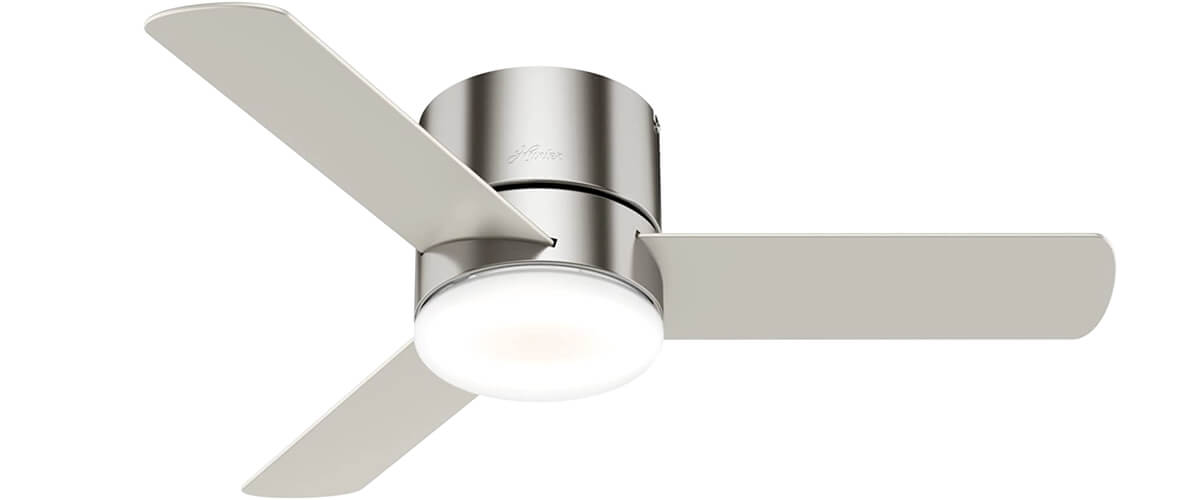 The winner on my list is Hunter Gilmour, and there are many reasons for that. This ceiling fan is designed for those who cherish a well-tempered ambiance and whisper-quiet operation. Elegantly crafted, this model is a combination of style and performance that brings an air of sophistication to any room.
Gilmour's multi-speed reversible Whisper Wind motor is the heart of its charm. Effortlessly creating an inviting environment, it's the perfect companion to both your summer BBQs and winter soirees. Flip the switch, and you'll find this fan working to circulate warm air during those chilly winter nights. That's year-round comfort right at your fingertips.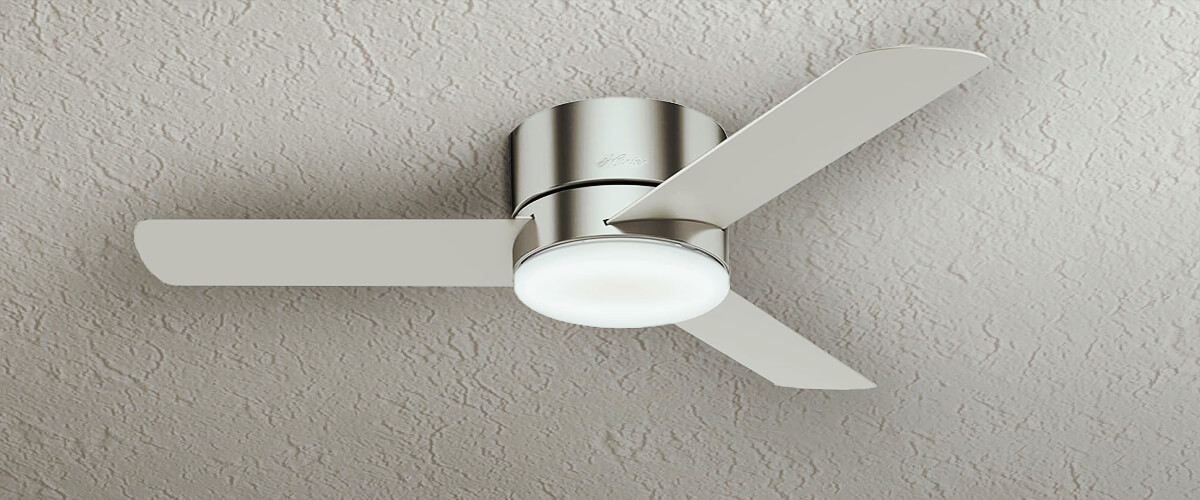 With Gilmour, lighting is more than an afterthought. Energy-efficient dimmable LED bulbs provide just the right mood, be it a soft glow for a cozy dinner or a bright light for late-night reading. And my favorite part? The longevity of these LED bulbs means you'll spend less time replacing them and more time relaxing.
Control is another hallmark of this fan. Its handheld remote allows you to fine-tune your comfort from any corner of the room. An audible beep reassures you that your command has been received – a small yet thoughtful touch that eliminates the guesswork. However, be aware that this model is designed for rooms with low ceilings, so if you have a loft-style space, it may not be the right fit. But for the right room, it's the perfect companion.
Hunter Gilmour stands tall as one of the best noiseless ceiling fans available on today's market. With an unbeatable price/quality ratio, it masterfully combines style, performance, and convenience, making it an exemplary choice for those seeking year-round comfort and sophistication in their indoor spaces.
Key specs
Power: 120 Volts.
Wattage, W: 42.
Size, inch: 44.
Blades: 3.
Mounting type: flush.
Reversible motor: yes.
Remote control: yes.
Speed adjustment: 3 speeds.
Timer: yes.
Special features: LED, dimmable.
Pros
Minimalistic yet stylish design.
Effortless installation.
Operates silently, even at full speed.
Cons
Light might not be bright enough for some users.
Some users find a remote inconvenient to use.
Honeywell 50197 – also a great choice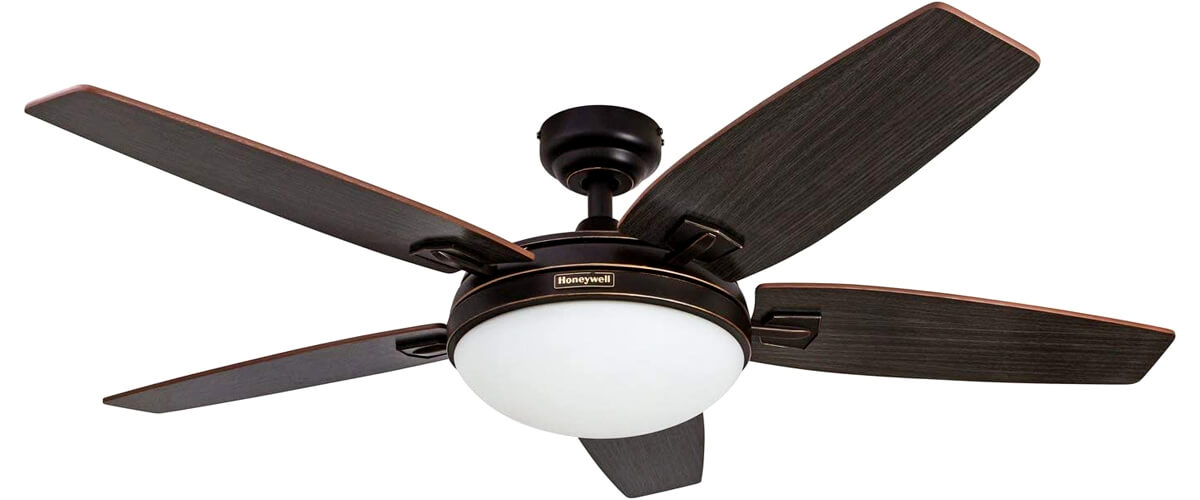 Now, let's take a look at another great ceiling fan – Honeywell 50197, a beautiful gem that truly gets the job done. Primarily designed for smaller spaces, it's proven itself to be an effective solution for areas that need a boost in airflow, such as bedrooms and kitchens.
The 50197's standout feature is undeniably its Carmel 5-blade design. These blades, both robust in design and efficient in operation, ensure maximum circulation even at top speeds. It's this feature that allows the fan to quickly distribute air throughout the room, effectively reducing hot spots and creating a more comfortable environment.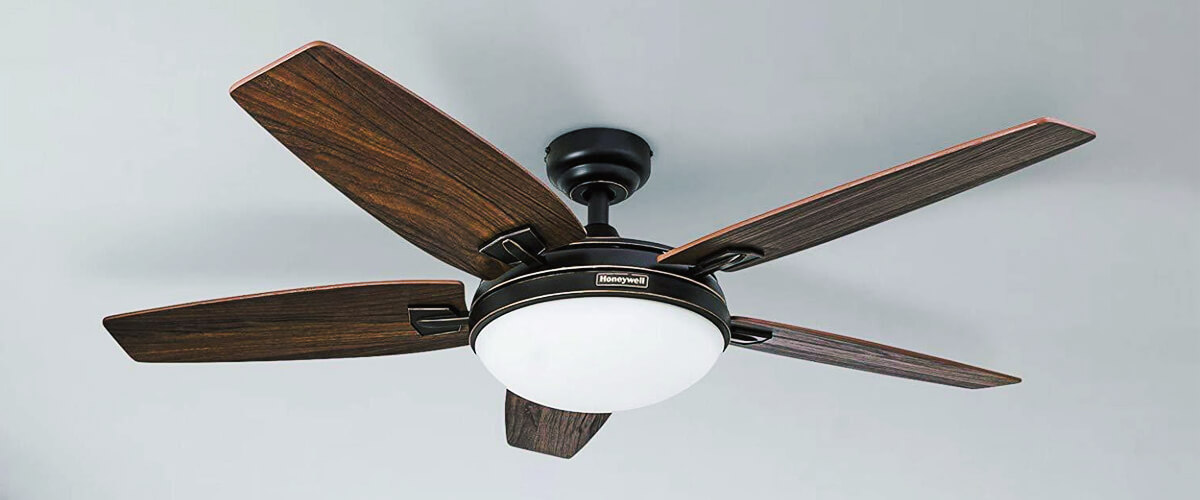 Another notable characteristic of this model is its installation versatility. It offers dual-mount hanging options, making it suitable for standard and vaulted ceilings. While a longer downrod is required for vaulted ceilings and sold separately, it's a worthwhile investment for the customized comfort you'll receive.
Comparing our top-list fan Hunter Gilmourand and Honeywell 50197, I must admit that the former boasts a more powerful yet silent motor. The latter, although quiet and strong in its own right, doesn't have the same Whisper Wind motor, which gives Gilmour an edge in terms of noiseless operation.
As for the remote control, it might take some time to get used to the buttons and functions. In my experience, it was a bit of a learning curve, but once mastered, it provided a new level of convenience.
If you are looking for a beautiful, versatile, silent ceiling fan that ensures maximum air circulation, do consider Honeywell 50197. Its price/quality ratio won't disappoint you!
Key specs
Power: 120 Volts.
Wattage, W: 60.
Size, inch: 44.
Blades: 5.
Mounting type: wall.
Reversible motor: yes.
Remote control: yes.
Speed adjustment: 3 speeds.
Timer: yes.
Special features: LED, dimmable.
Pros
Nice appearance.
Compact yet robust.
Well-balanced right out of the box.
Smooth and quiet operation.
Comes in various colors.
Cons
A bit cumbersome setup.
May be too wavy for some ceilings – make sure yours is solid.
Not a very intuitive remote.
Ohniyou Small Modern Ceiling Fan – top for bedroom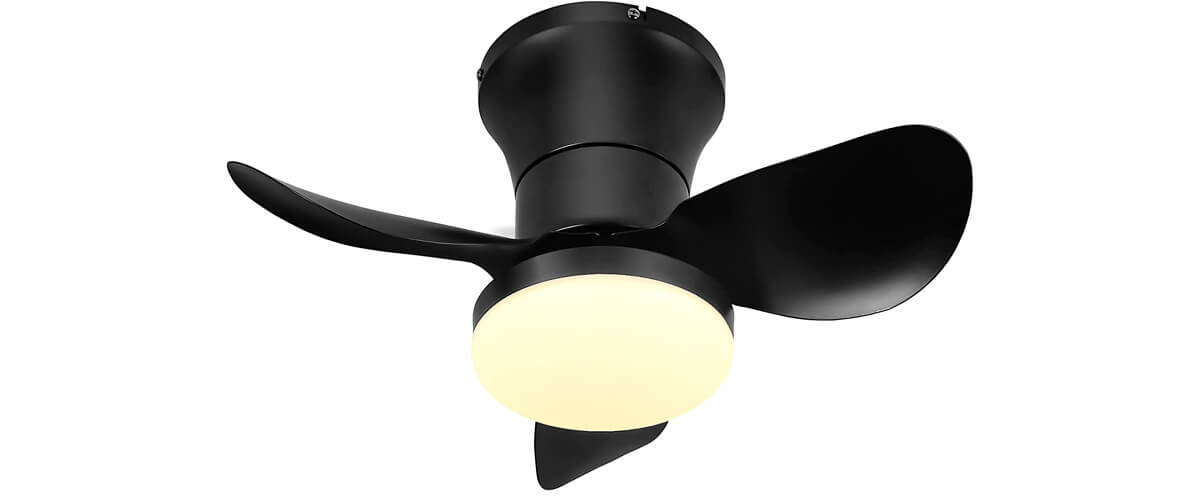 This model is a compact yet mighty player in the world of bedroom ceiling fans. Despite its petite 21-inch size, Ohniyou doesn't compromise on power or efficiency.
One of the things that impressed me about this fan is its 6-speed settings. They provide a good degree of customization, allowing you to adjust the speed from a soft breeze for quieter moments to a strong gust for hotter days. The wide-angle metal blades, an ingenious feature, work in tandem with these speed settings to maximize the fan's reach. Such design ensures that even the most remote corners of your room receive equal airflow.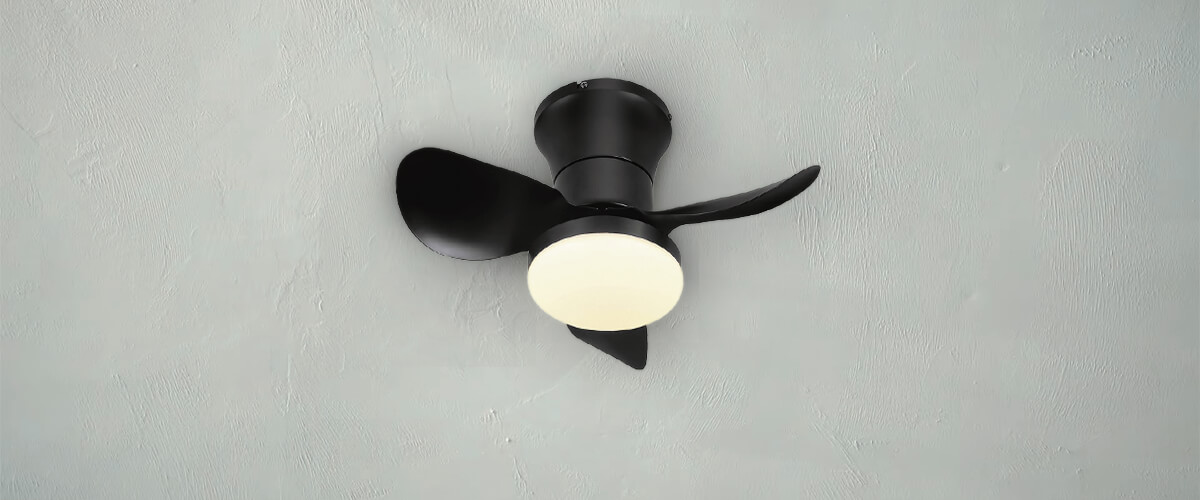 Another feature worth mentioning is the multi-functional lighting system. It's not just about illumination – it's about setting the right mood. The Ohniyou fan offers three color options and adjustable brightness, allowing you to tailor the lighting to your needs. Want to create a warm, inviting atmosphere for a dinner party? No problem. Need a cool, bright light for a long work session? The Ohniyou has you covered. One minor drawback is that the light might not be bright enough for larger rooms, but in smaller spaces, it should suffice. If additional lighting is required, pairing the fan with some strategically placed lamps should do the trick.
Ohniyou Small Modern Ceiling Fan encapsulates the very essence of compact efficiency and quiet performance. This makes it a top contender for the best quiet ceiling fan for bedroom spaces, clearly demonstrating that power and functionality can indeed be found in smaller packages.
Key specs
Power: 110 Volts.
Wattage, W: 30.
Size, inch: 21.
Blades: 3.
Mounting type: flush.
Reversible motor: yes.
Remote control: yes, app operable (Wi-Fi).
Speed adjustment: 6 speeds.
Timer: yes.
Special features: LED, dimmable.
Pros
No shaking or clicking when operating.
App- and remote-controlled.
A lot of operational options.
Easy to install.
Available in black and white colors.
Cons
The app and remote are a bit confusing.
YUHAO 52-1001 – for large rooms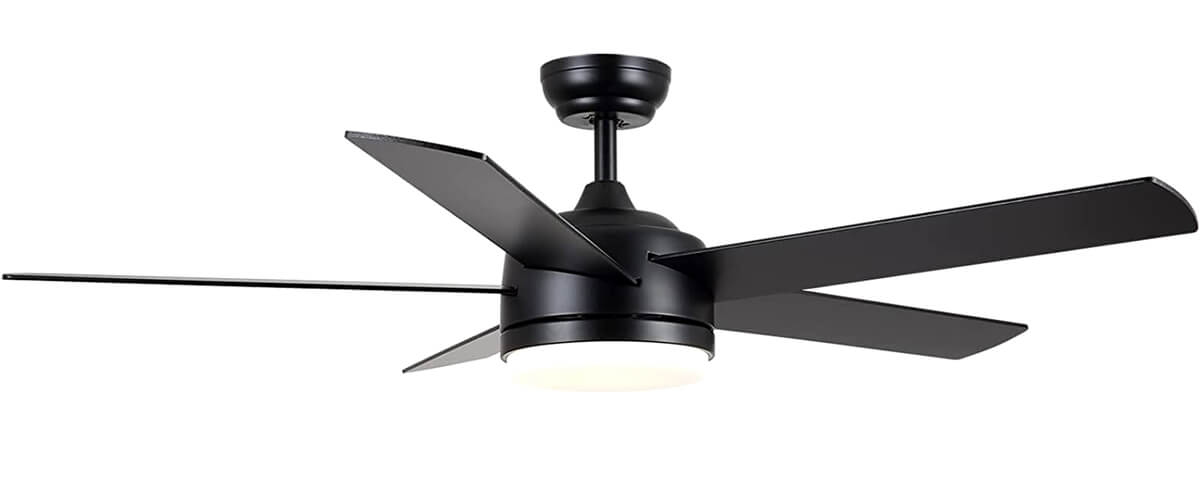 Having spent some time with the YUHAO 52-1001 52-inch ceiling fan, I can confidently say this is a model that doesn't shy away from large spaces. Sporting a wide 52-inch span, the ventilator's five blades efficiently circulate air around the room, reducing hot spots and creating a comfortable environment.
The dimmable tri-color temperature LED lighting system of this fan truly deserves special mention. It transcends the conventional role of a light source, transforming into a chameleon that adjusts to your mood and needs. Imagine turning your room into a cozy sanctuary with a warm light setting, perfect for losing yourself in a good book on a quiet evening. Conversely, the cool light setting can help create an environment conducive to concentration, a practical feature for those productive work-from-home days. This model's lighting isn't just about visibility, it's about versatility and personalized comfort.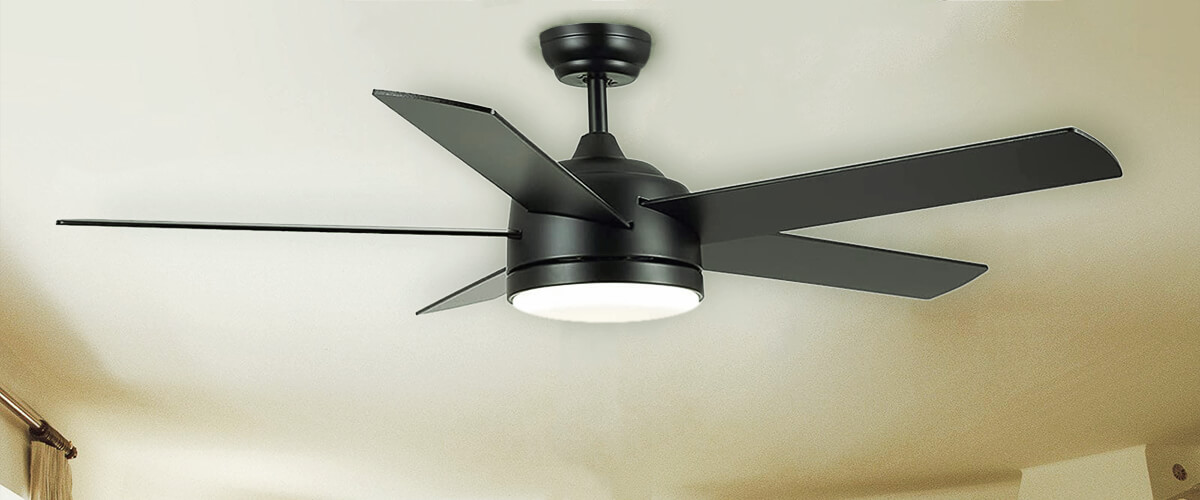 The 52-1001's quiet reversible motor stands out as a significant advantage. In my experience, even at the highest speed, the fan operated so quietly that I barely noticed it was on. And come winter, the reversible feature will be a boon, as it can help redistribute warm air trapped near the ceiling, helping to make heating your large room more energy-efficient.
I love that the ventilator comes with a convenient, multi-functional remote, making it stand out against other models on my list. The controls are intuitive and feel nice.
In summary, YUHAO 52-1001 is a solid choice if you have a large room to cool. Its quiet operation, efficient air circulation, and customizable lighting options make it a valuable addition to any space.
Key specs
Power: 120 Volts.
Wattage, W: 65.
Size, inch: 52.
Blades: 5.
Mounting type: ceiling.
Reversible motor: yes.
Remote control: yes.
Speed adjustment: 3 speeds.
Timer: yes.
Special features: LED, dimmable.
Pros
Runs without any wobble.
Insanely powerful.
Has a timer.
Hassle-free installation – clear instructions.
Cons
May seem bulky for some users.
Comes with a short pole.
Sofucor KBS-52143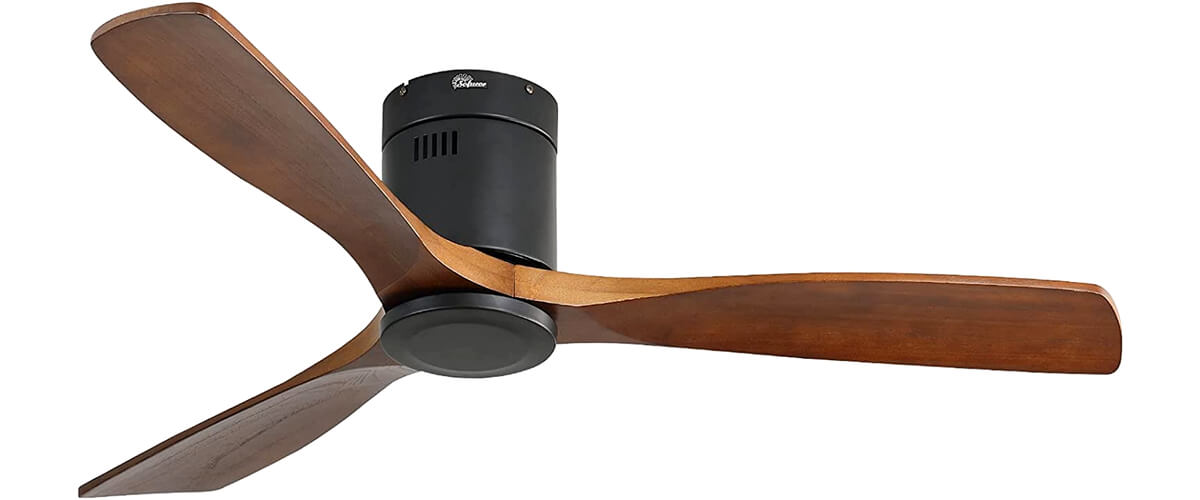 The Sofucor KBS-52143 is a quiet 52-inch low-profile ceiling fan – a great example of meticulous design and efficient functionality. As I put it to the test, the fan struck a perfect balance between practicality and elegance, redefining the traditional ceiling fan experience.
One standout feature is its indoor and outdoor compatibility. The fan's outdoor-approved dark walnut blades are designed to weather the elements, but it functions equally well indoors, delivering a refreshing breeze to your living room or bedroom. Its silicon steel DC reversible motor ensures a noiseless operation, ideal for serene indoor evenings or tranquil outdoor gatherings.
When it comes to energy efficiency, the KBS-52143 truly shines. It uses noticeably less power compared to other fans, making it a prime choice for those conscious about energy conservation. This fan marries comfort with sustainability, an essential aspect of the modern era of home appliances.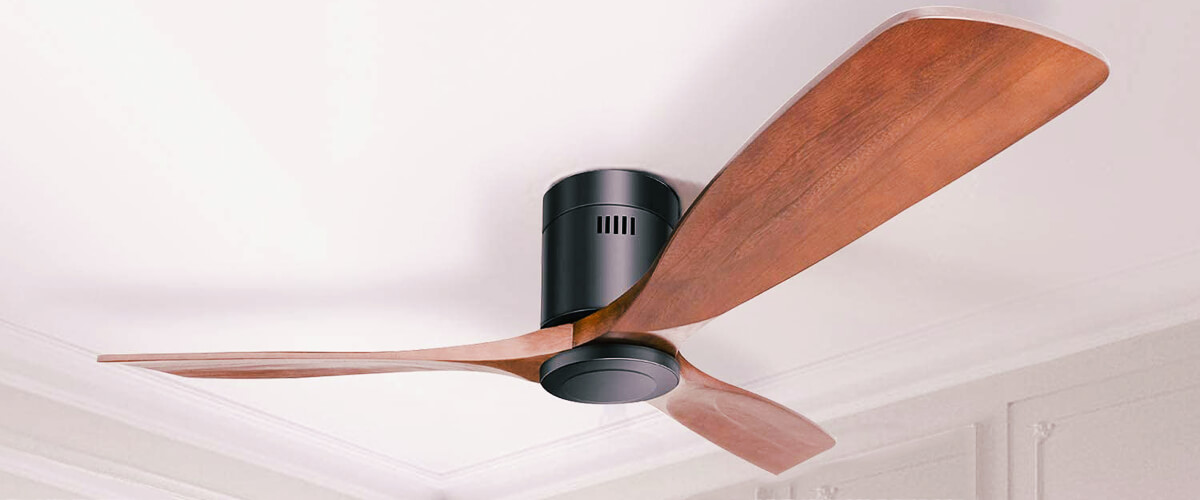 The compact, low-profile design of the ventilator, with a height of only 10.24″, is perfect for rooms with lower ceilings. It provides excellent airflow without compromising on headroom or aesthetics. Weighing in at 14.7 lbs, it feels robust and secure when installed correctly.
The fan is ETL-certified, assuring you that it meets North American safety standards. This certification gives users confidence in the safety and quality of their investment.
A natural question arises – if the Sofucor is so great, why doesn't it top the list? That's because our winner Hunter Gilmour excels in providing consistent, whisper-quiet airflow, making it an ideal choice for bedrooms or study rooms where silence is paramount. However, the Hunter Gilmour is primarily an indoor fan, so if you're looking for a unit that can also be used outdoors, the Sofucor is a more versatile choice.
In conclusion, the Sofucor KBS-52143 impresses with its energy efficiency, quiet operation, and indoor-outdoor versatility. ETL-certified for safety, it's an excellent choice for those seeking a fan that enhances comfort and tranquility in diverse settings.
Key specs
Power: 120 Volts.
Wattage, W: 35.
Size, inch: 52.
Blades: 3.
Mounting type: ceiling.
Reversible motor: yes.
Remote control: yes.
Speed adjustment: 6 speeds.
Timer: yes.
Special features: LED, dimmable.
Pros
A sleek addition to any room.
Fits snugly close to the ceiling.
Available in various colors.
Cons
Remote feels flimsy.
Poor manual, but still easy to install.
FAQ
What makes a ceiling fan noisy?
The noise level of a ceiling fan hinges on several key factors. The quality of the
motor
is a primary determinant, with subpar motors often causing excessive noise. Unbalanced or improperly designed blades can also contribute to a noisy operation due to uneven air movement and vibration. Additionally, a poorly structured mounting system can induce noise by causing instability. Lastly, blade materials matter – certain metals may generate more noise compared to wood or plastic. Each of these components plays a role in the overall
noise output of your fan
.
Can I install a ceiling fan myself?
Yes, it is possible to
install a ceiling fan yourself
if you are comfortable with basic DIY tasks and have the necessary tools. However, due to the electrical connections involved, hiring a professional may be safer and more efficient, especially if you are inexperienced with such installations.
What is the best way to clean and maintain a quiet ceiling fan?
Maintaining a quiet ceiling fan
involves regular cleaning to remove dust and ensure the blades are balanced. This can be done using a soft cloth or a brush attachment on a vacuum cleaner. It's also important to check and tighten any loose parts periodically to prevent noise due to vibrations.
How can I determine the appropriate size of ceiling fan for my room?
Choosing the right fan size
depends on the size of your room. As a general rule, a room up to 75 square feet suits a fan of 29 to 36 inches, a room between 76 and 144 square feet requires a fan of 36 to 42 inches, and larger rooms of up to 225 square feet will benefit from a fan of 50 to 54 inches.