In today's technologically-driven world, it's no surprise that even fans have become smarter. So if you're looking for a new one, choosing the best smart ceiling fan can offer an array of advantages. These innovative devices not only provide comfort but also help you save energy, improve convenience, and integrate seamlessly with your home ecosystem.
I've tested numerous smart ceiling fans to put together this comprehensive article and help you make an informed decision. Read on to discover top models and essential factors to consider when you are on the market.
Our pick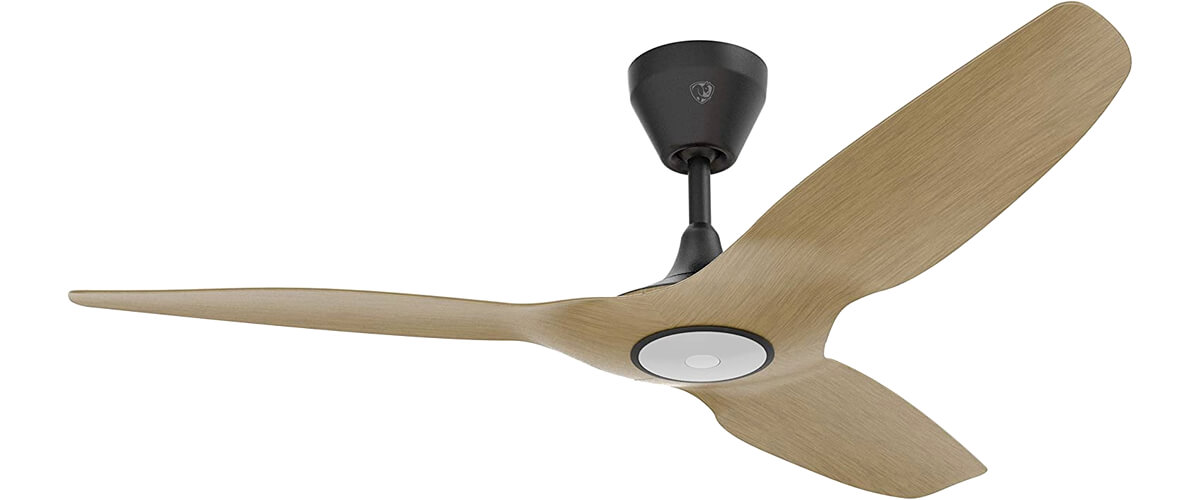 Big Ass Fans Haiku Home L-series
Best smart ceiling fan
This Haiku L by Big Ass Fans 52-inch ceiling fan features an integrated LED and 16 brightness settings, remote and voice control, and seven speeds to deliver serious airflow and exceptional efficiency.
Read the full review
.
Smart ceiling fan comparison table
Name
Wattage, W
Size, inch
Blades
Reversible motor
Remote control
Review
Big Ass Fans Haiku Home L-series

best overall

20
52
3
yes
yes, app operable (Wi-Fi, Bluetooth), voice control
Review
Orison Low Profile Ceiling Fan

bladeless

64
19.7
8
yes
yes, app operable (Wi-Fi, Bluetooth), voice control
Review
Reiga Ceiling Fan

budget

24
52
3
yes
yes, app operable (Wi-Fi, Bluetooth), voice control
Review
What to look for in the best smart ceiling fans?
A smart home ceiling fan is not cheap stuff. To ensure that your investment pays off, it's important to examine features, design, and overall performance. In the following sections, we'll delve into these aspects, providing you with a solid foundation to make an educated decision when it comes to choosing the right model.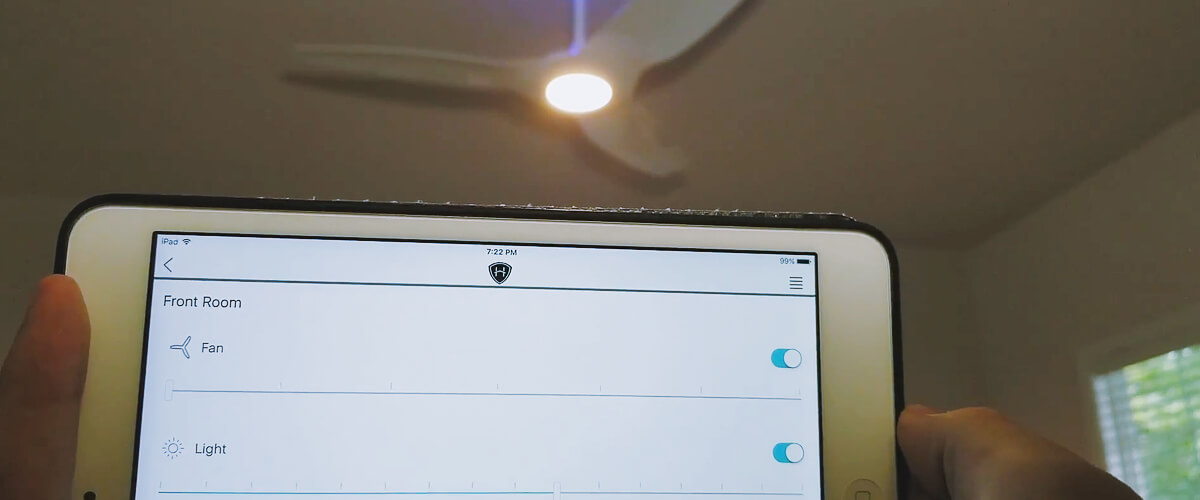 Features
The best smart ceiling fans offer a range of features that enhance their convenience, functionality, and even energy efficiency. Some of the most notable features include:
Voice control: Operate your fan using simple verbal commands through popular virtual assistants like Amazon Alexa or Google Assistant.
Remote control via a smartphone app: Adjust settings from anywhere with ease.
Integration with other smart home devices: Allows your fan to work seamlessly with your home ecosystem, such as lights and thermostats.
Scheduling and automation capabilities: Set routines for optimal comfort and energy savings.
Fan speed settings: Versatility in airflow, catering to your preferences for various weather conditions.
Reversible blades: Change the fan's direction for efficient air circulation in both warm and cool seasons.
Adjustable lighting: Customize the ambiance to suit your mood or activities.
Temperature sensors: Maintain a comfortable room temperature by automatically adjusting the fan's speed based on the room's conditions.
These features, among others, contribute to the overall appeal of smart ceiling fans, making them a valuable addition to any home.
Design
Smart overhead ventilators come in a variety of shapes, sizes, and finishes, making it easy to pick one that complements your home decor and personal style. Some of the design aspects to consider may include:
Size: Ensure the fan's dimensions are appropriate for the room's size to optimize air circulation.
Blade material: The most popular options include wood, plastic, and metal, each offering different benefits in terms of durability, aesthetics, and maintenance.
Finishes: Ranging from matte to glossy and available in various colors, finishes can complement or contrast your room's décor.
Style: From traditional to modern, there's a fan style to match any interior design theme.
Lighting: Integrated light kits can serve as a primary or secondary source of illumination for your room.
A number of blades: While most fans have three to five blades, their number can impact both the model's appearance and performance.
By considering these design elements, you'll be able to select a ceiling fan that not only functions well but also enhances the aesthetic appeal of your space.
Performance
When selecting a smart ceiling fan, pay attention to the following critical performance factors:
Airflow capacity: Measured in cubic feet per minute (CFM), this indicates the fan's ability to circulate air effectively. Higher CFM values typically correspond to more powerful air movement.
Noise level: Quiet operation is essential for maintaining a peaceful environment, especially in bedrooms or workspaces. Check the fan's decibel (dB) rating to ensure it operates at an acceptable noise level.
Energy efficiency: Opt for fans with energy-efficient motors and features like sleep mode, which help conserve energy and reduce utility costs.
Considering these performance factors will help you choose a model that delivers optimal comfort and functionality while minimizing energy consumption and noise.
Best smart ceiling fan reviews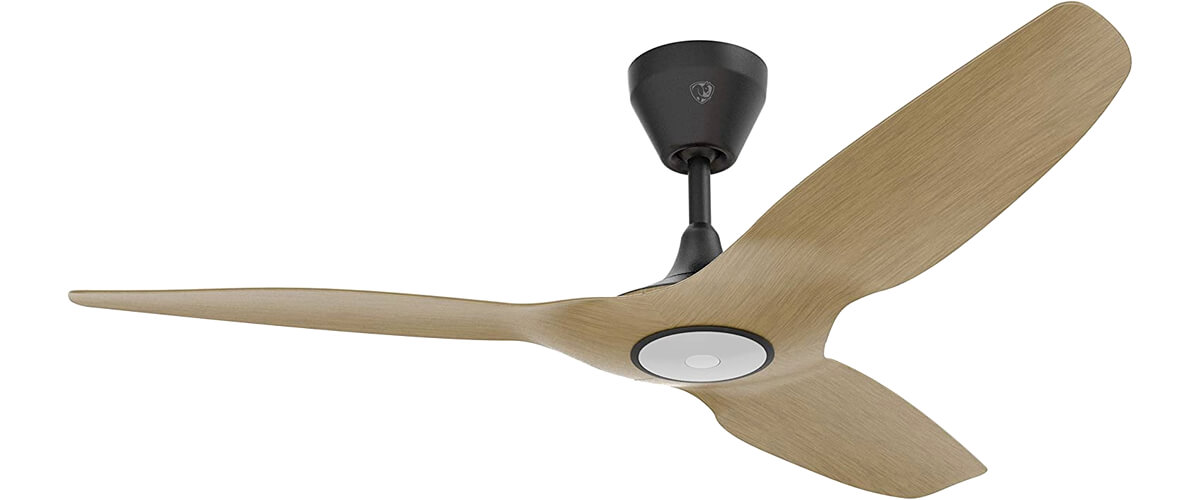 I have seen numerous high-tech ceiling fans, but the Haiku Home L-series by Big Ass Fans is a true game-changer. Combining a sleek design with an extensive range of features, this device is perfect for those who desire an elegant and efficient cooling solution.
The fan's diverse settings, including seven speeds, allow you to tailor your cooling experience to your personal preferences. The Sleep mode, for instance, provides gentle air circulation when you rest, while the Whoosh mode simulates natural breezes for a more organic feel. You can also save energy by utilizing the Eco mode and timer functions, which help reduce power consumption without sacrificing comfort.
One of the standout features of the Haiku Home L-series is its factory-balanced and sound-tested design, ensuring a wobble- and rattle-free quiet operation. This attention to detail not only enhances the overall experience but also assures you of the product's durability and longevity.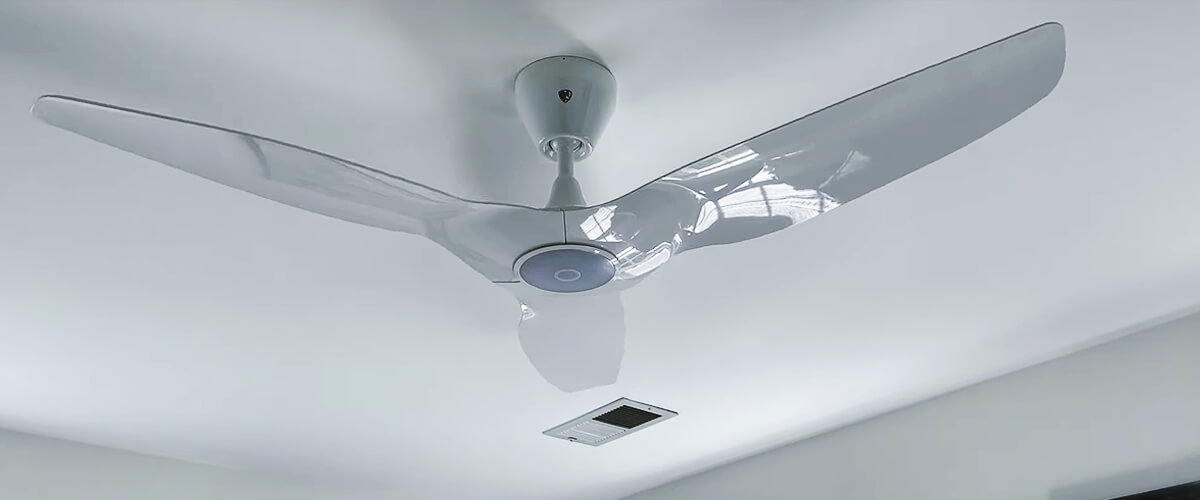 The integrated LED light kit adds a touch of versatility, boasting 16 distinct brightness settings to suit various moods and occasions. Emitting a warm white light that is brighter than a conventional 60-Watt bulb, this feature can transform the atmosphere of your living space with just a few clicks.
I love the fan's wall-mountable IR remote that allows you to adjust settings from anywhere in the room. Moreover, the built-in Wi-Fi module and compatibility with the free Haiku app (available on iOS and Android) enable you to control the fan using your smartphone or even voice commands via Amazon Alexa and Google Assistant.
The Haiku Home L-series fan is ideal for indoor spaces measuring up to 225 sq ft, with flat or sloped ceilings up to a 33-degree pitch and a height of 8 ft to 11 ft.
With its impressive array of features, elegant design, and seamless user experience, the Haiku Home L-series by Big Ass Fans rightfully earns its title as the overall best smart fan on the market. You'll buy the quality!
Key specs
Power: 120 Volts (EC motor).
Wattage, W: 20.
Size, inch: 52.
Blades: 3.
Mounting type: downrod mount/universal mount.
Reversible motor: yes.
Remote control: yes, app operable (Wi-Fi, Bluetooth).
Works with: Amazon Alexa and Google Assistant (device for voice control sold separately).
Speed adjustment: 7 speeds.
Timer: up to 4 hours.
Special features: LED, dimmable.
Pros
Durable construction.
Doesn't wobble, even at high speeds.
Easy installation – the manual is very clear.
Comes in various colors.
Cons
Doesn't include a wall switch and mounting bracket for the remote.
Insufficient for room lighting – works more like a spotlight, but after all, it's a fan, not a chandelier.
Orison Low Profile Ceiling Fan – bladeless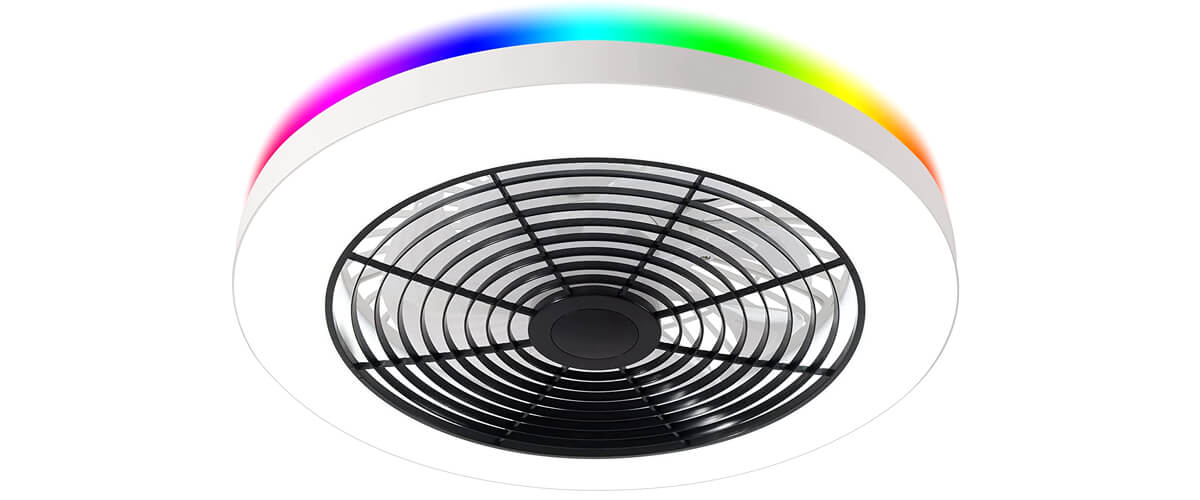 Many users, including me, love the Orison Low Profile Ceiling Fan thanks to its innovative design, wireless technology, and other remarkable features. This 19.7-inch fan is not only a powerful cooling solution but also a stylish addition to any modern living space, making it perfect for those who value aesthetics and efficiency.
Bladeless technology sets this device apart from traditional fans, offering a safe and whisper-quiet operation. The absence of blades eliminates the risk of accidents and ensures that the fan can be mounted closer to the ceiling, making it an ideal choice for rooms with lower ceilings or limited space.
The ventilator's compatibility with Amazon Alexa, Google Assistant, and the Orison smartphone app enables smooth integration into your smart home ecosystem. In addition, you can control this device and adjust its settings using voice commands or the app, allowing you to create the perfect atmosphere without lifting a finger.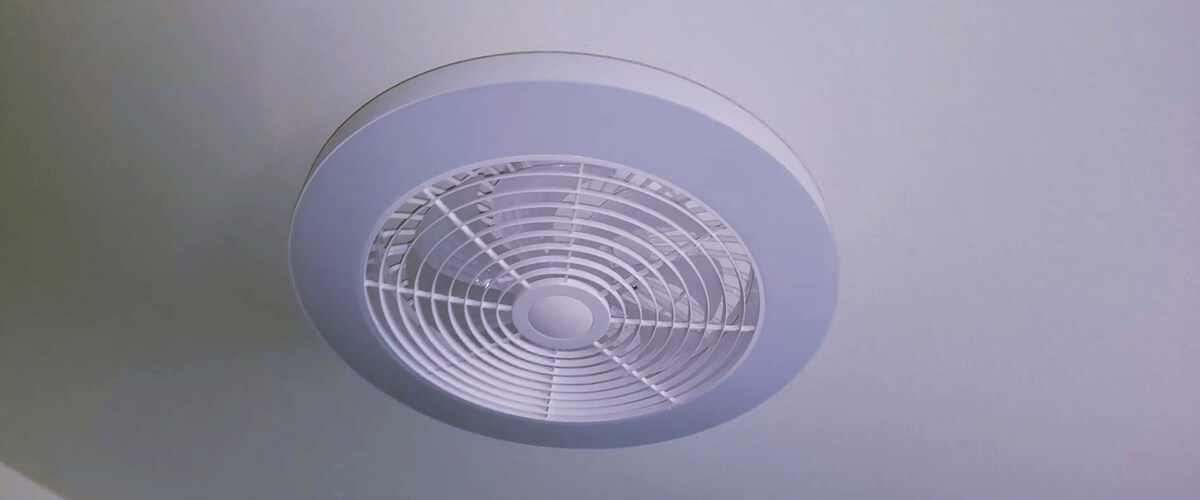 One of the most striking features of the Orison fan is its color-changing LED-RGB back ambient light. With numerous color options and adjustable brightness levels, set the mood for any occasion, whether it's a cozy movie night or a vibrant party.
Designed for living rooms and bedrooms, the fan's low-profile design and absence of bladeless ensure quiet and efficient cooling. This device's versatility allows it to adapt to various interior design themes, enhancing the overall aesthetics of your home.
Orison Low Profile Ceiling Fan is a stylish and functional addition to any room. Its smart & beautiful design, wide range of features,and ease of use make it a worthwhile investment for those seeking a top smart ceiling fan with customizable lighting options.
Key specs
Power: 110 Volts (AC/DC).
Wattage, W: 64.
Size, inch: 19.7.
Blades: 8.
Mounting type: flush.
Reversible motor: yes.
Remote control: yes, app operable (Wi-Fi, Bluetooth).
Works with: Amazon Alexa and Google Assistant for voice control.
Speed adjustment: 6 speeds.
Timer: yes.
Special features: LED, dimmable.
Pros
Easy installation – the plastic mounting ring and safety wire greatly simplify the installation process.
Solid construction.
Versatile lighting options.
The app offers granular control over light settings and the ability to set up schedules.
Great price/quality ratio.
Cons
Limited remote control functionality – it offers just basic functionality; however, more advanced options are available through the smartphone app.
May not be sufficient for large spaces.
Reiga Ceiling Fan – budget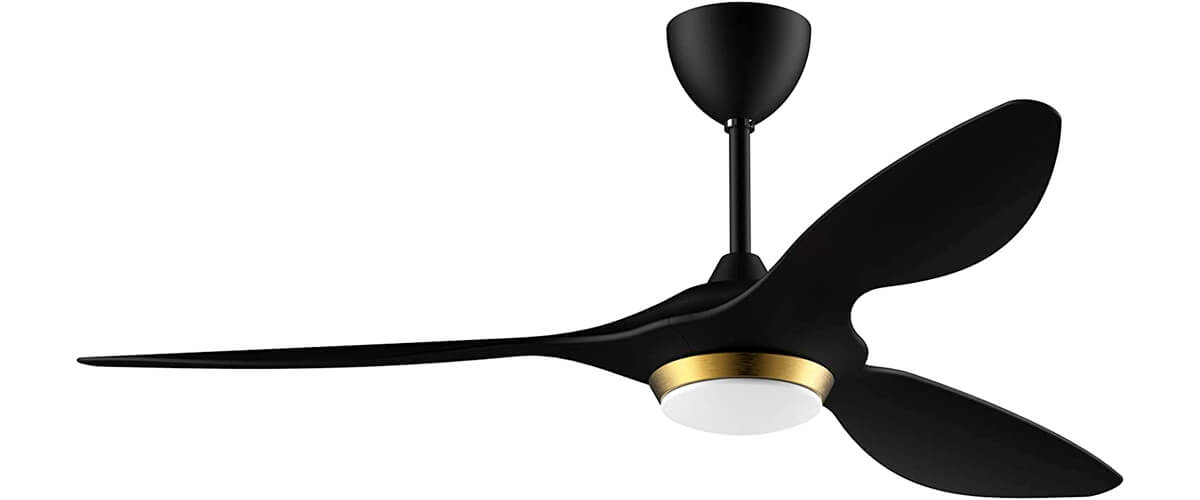 Reiga Ceiling Fan is an affordable option for those seeking a combination of functionality and convenience without breaking the bank.
The notable feature of this fan is its silicon steel DC motor, which ensures powerful air movement, quiet operation, and energy efficiency. The motor's long service life and ETL certification offer peace of mind when it comes to performance and safety.
The included remote control provides easy access to different settings, such as adjusting the lighting between white, warm, and yellow light, selecting from six wind speeds, and setting a timer for sleep shutdown (1/3/6 hours). With Wi-Fi control, you can manage your fan's settings effortlessly and tailor your environment according to your preferences.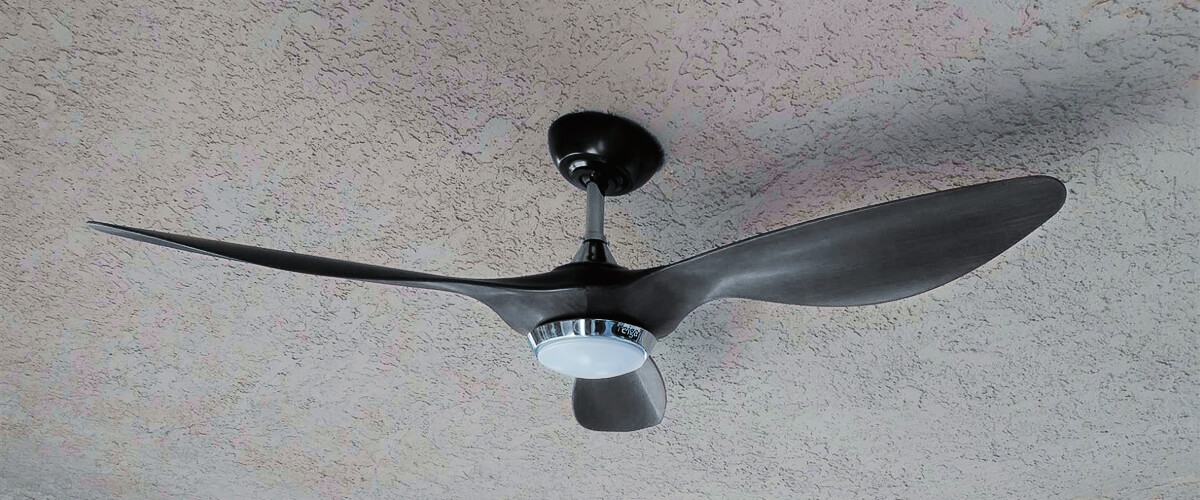 The Reiga fan also boasts a two-way rotation feature, allowing you to switch between downward airflow for summer and upward airflow for winter. This reversible control function helps to reclaim lost heat from the ceiling during colder months, ultimately reducing energy costs.
While this ventilator might not have all the premium features of more expensive models, it does offer decent functionality for its price point. Moreover, its suitability for spaces ranging from 100 to 250 square feet makes it a versatile option for various rooms, such as living rooms, bedrooms, dining rooms, offices, and kitchens.
Reiga Ceiling Fan is a budget-friendly choice that doesn't compromise functionality or convenience. Its Wi-Fi control features, energy efficiency, and versatile settings make it an attractive option for those searching for an affordable yet reliable fan for their home.
Key specs
Power: 110 Volts (AC/DC).
Wattage, W: 24.
Size, inch: 52.
Blades: 3.
Mounting type: downrod.
Reversible motor: yes.
Remote control: yes, app operable (Wi-Fi, Bluetooth).
Works with: Amazon Alexa for voice control.
Speed adjustment: 6 speeds.
Timer: up to 6 hours.
Special features: LED, dimmable.
Pros
Excellent build quality.
Beautiful design.
Operates quietly.
Hard to beat the price.
Cons
Not that easy to install – it's better to hire an expert.
Takes time to pair the remote and fan.
Poor manual.
Hunter Symphony Fan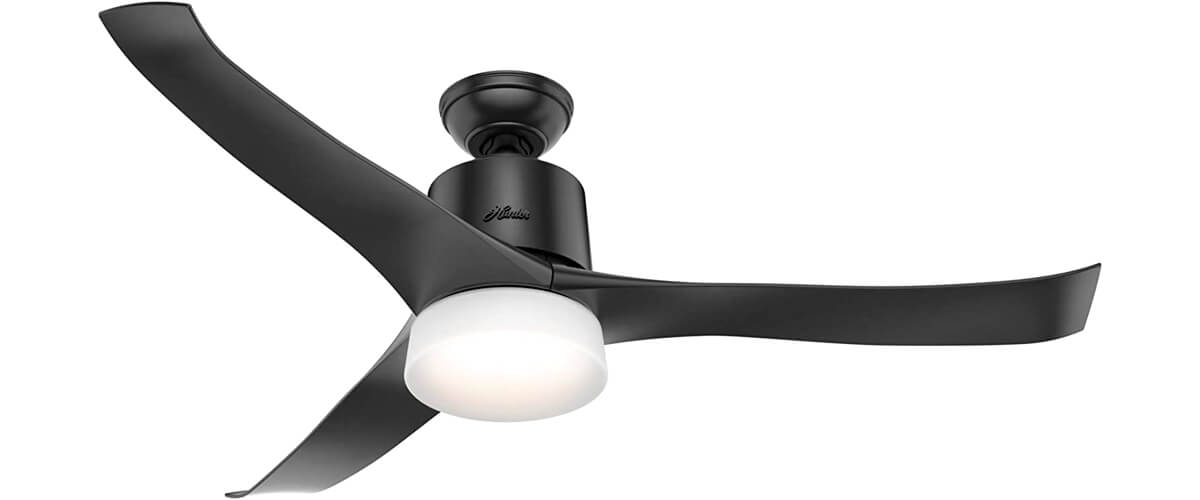 Hunter Symphony Fan is a win-win solution for anyone who wants to jazz up a room while still enjoying the cooling breeze from a ceiling fan. Measuring 54 x 54 x 14.6 inches, this device boasts a refined appearance, accentuated by an LED light nestled within a sophisticated glass casing – certain to amplify your home's charm.
The ventilator's multi-speed motor, silent as a whisper, delivers a powerful airflow sans any unwanted noise. Moreover, the reversible motor empowers you to alternate between downdraft and updraft modes as the seasons change, assuring year-round comfort.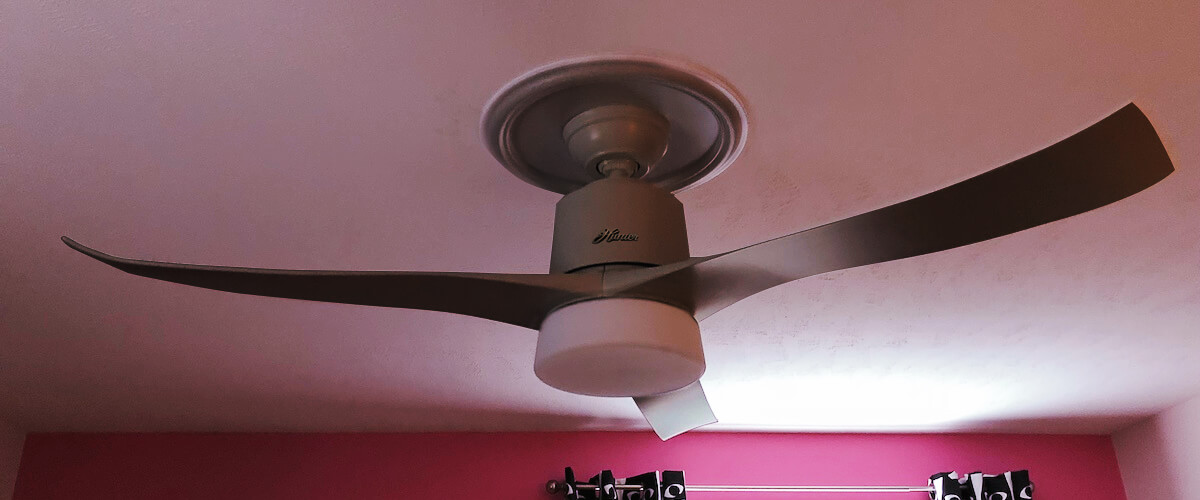 A major perk of the Hunter Fan lies in its energy-efficient LED light kit, which can be dimmed to your liking. These durable bulbs not only enable customizable lighting but also outlast their conventional counterparts.
This home ceiling fan is compatible with Google Assistant, Alexa, and Apple HomeKit. You can effortlessly regulate settings such as light intensity and speed through voice commands or the premium remote that features an audible beep. Furthermore, the SIMPLEconnect Wi-Fi functionality paves the way for smooth home automation, positioning comfort and convenience at your beck and call.
Hunter Symphony Fan melds voguish design with intelligent home integration. Its quiet motor and energy-saving lights render this device an invaluable asset to your home, delivering both solace and practicality.
Key specs
Power: 120 Volts (AC).
Wattage, W: 44.3.
Size, inch: 54.
Blades: 3.
Mounting type: ceiling.
Reversible motor: yes.
Remote control: yes, app operable (Wi-Fi, Bluetooth).
Works with: Amazon Alexa, Google Assistant, Vera, Homekit for voice control.
Speed adjustment: 3 speeds.
Timer: yes.
Special features: LED, dimmable.
Pros
Quiet operation.
Easy to set up.
Comes with everything you need for installation, including bulbs.
Fixture looks chic.
Cons
Alexa integration is tricky.
The downrod that comes with the fan won't work on sloped ceilings.
Carro Fletcher Ceiling Fan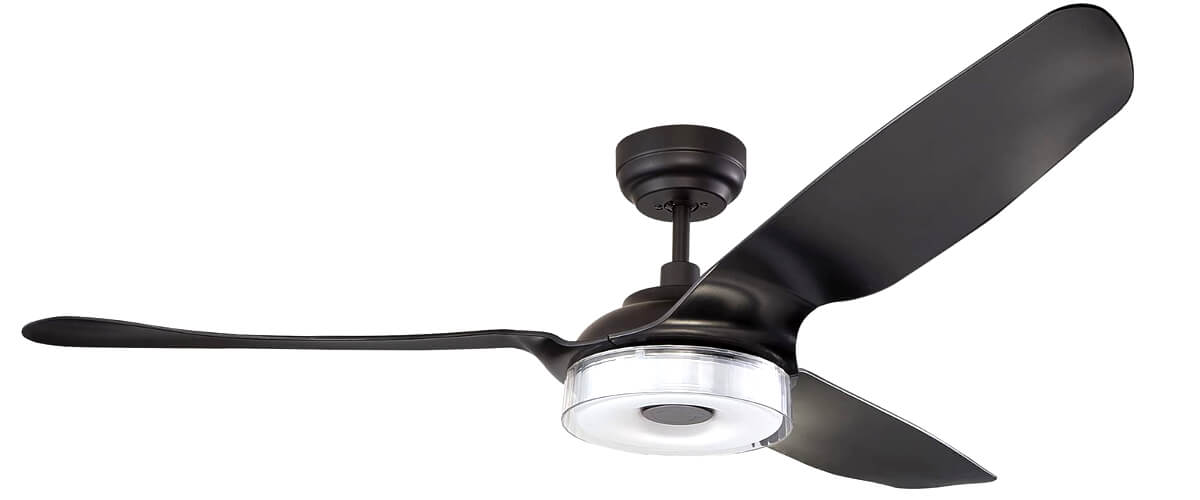 Carro Fletcher Ceiling Fan is a perfect choice for those looking for an energy-efficient and versatile addition to their living space. As an ETL Certified and Energy Star-Certified product, this device has undergone extensive safety testing and is designed for optimal energy consumption.
Now, let's talk about the motor. This beauty comes with a DC motor that's not only efficient but also whisper-quiet. No more annoying fan noises! Plus, with a 10-speed reversible motor, you can easily switch between downdraft mode in the summer and updraft mode during winter. Isn't that handy?
But wait, there's more! This ceiling fan is easy to control with Alexa, Google Assistant, Amazon, and even Siri Shortcuts. That's right – you can command your fan using just your voice!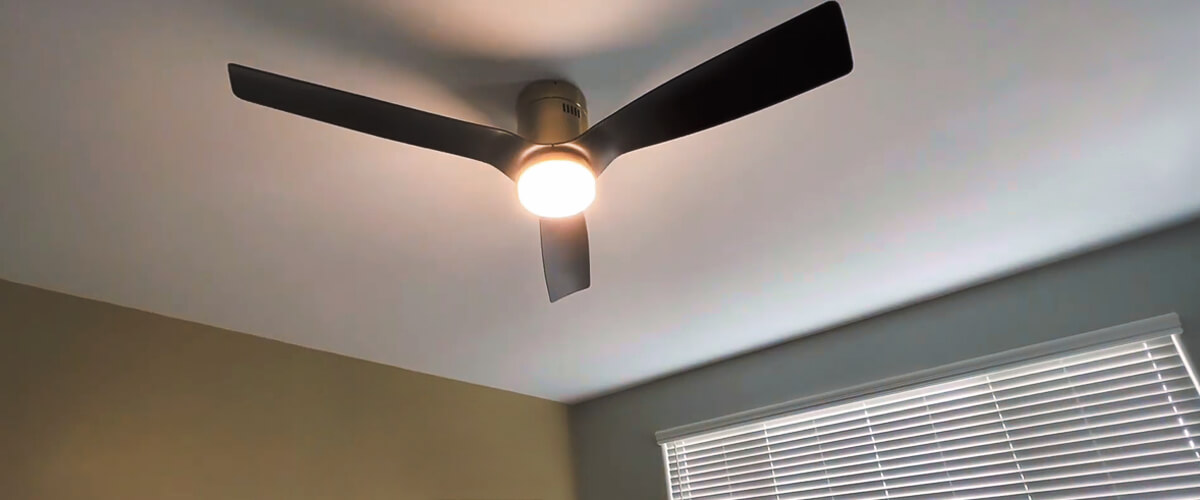 Moving on to the lighting aspect. The integrated LED light kit offers a wide range of options, from cozy warm white to invigorating cool daylight. Perfect for setting the mood, whatever it may be.
Ease of installation? You bet! The Carro Fletcher boasts a reinforced structure design, making it a breeze to install. And guess what? It's suitable for both indoor and outdoor use, so you can enjoy its benefits in your living room, bedroom, or even your patio.
Carro Fletcher Ceiling Fan is a smart, energy-efficient, and stylish choice for any home. With voice control compatibility, a quiet motor, and adjustable lighting, it's an investment you won't regret.
Key specs
Power: 24 Volts (DC).
Wattage, W: 30.
Size, inch: 56.
Blades: 3.
Mounting type: ceiling.
Reversible motor: yes.
Remote control: yes, app operable (Wi-Fi, Bluetooth).
Works with: Amazon Alexa, Google Assistant, Siri for voice control.
Speed adjustment: 10 speeds.
Timer: yes.
Special features: LED, dimmable.
Pros
Fantastic airflow.
App works nice.
Easy to install – straightforward instructions.
Cons
Pairing with Alexa takes a while.
Siri commands work, but it's not compatible with HomeKit.
FAQ
Can I use a smart ceiling fan with a smart thermostat?
Absolutely! Many smart ceiling fans are designed to integrate with smart thermostats, allowing for seamless temperature management in your home. By working in tandem, your fan and thermostat can help maintain a comfortable environment while maximizing energy efficiency.
How do I choose the right size of a smart ceiling fan?
To choose the right size
, consider the size of the room in which the
fan will be installed
. As a general rule, rooms up to 75 square feet require a fan with a blade span of 29-36 inches; rooms between 76 and 144 square feet need a fan with a 36-42 inch blade span; rooms between 145 and 225 square feet benefit from a 44-50 inch blade span; and rooms larger than 225 square feet should have a fan with a blade span of 50 inches or more. Additionally, ensure there's ample clearance between the fan blades and walls or other objects.
Can I use a smart ceiling fan outdoors?
Yes, you can use a smart ceiling fan outdoors, as long as it's specifically designed for outdoor use. Look for models with a wet or damp rating, which indicates they can withstand outdoor conditions, such as humidity, moisture, and exposure to the elements.
Can I control multiple smart ceiling fans at once?
Certainly! Many smart ceiling fan apps allow you to control multiple devices simultaneously, either individually or as a group. This functionality is particularly useful for larger homes or spaces with multiple ventilators, enabling you to manage all of them efficiently from one central location.