Are you tired of sweating in your clothes during the hot summer months? Have you tried everything possible to keep your house cool, but nothing works? Then, I have a solution for you – ceiling fans! And in this article, I will tell you about bladeless ceiling fans. I know what you're thinking, "Bladeless? How does that even work?" I had the same questions when I first heard about them. But when I experienced this type of fan, I was blown away (no pun intended) by their efficiency and design.
Without further ado, I've compiled a list of the best bladeless ceiling fans I've tested and inspected on the market. From their elegant design to technical features, we'll look in-depth at what sets these fans apart. And along the way, we'll look at their benefits, and I'll answer some questions regarding these miracle devices. So, please sit back, relax, and let's get started!
Our pick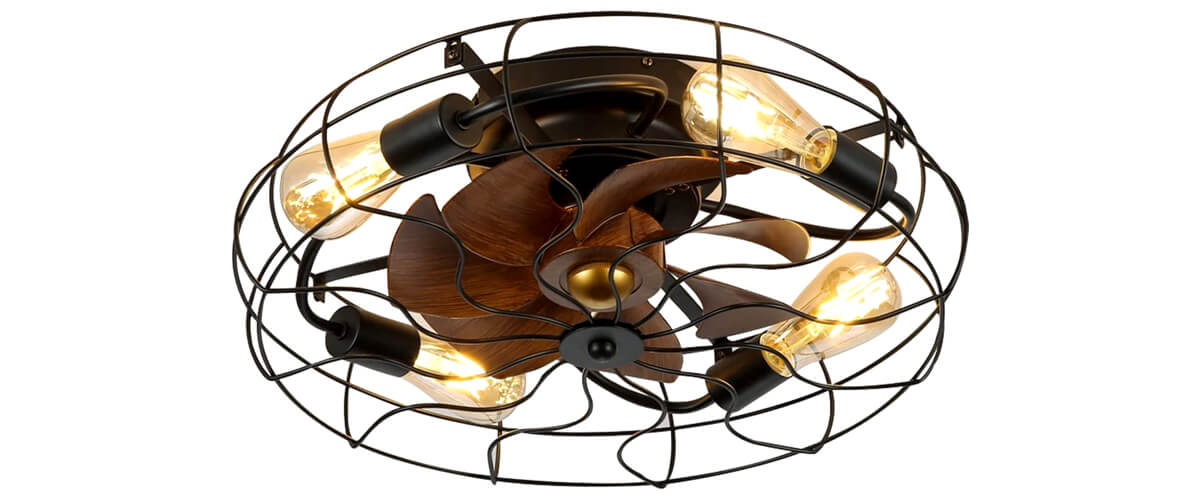 DIDER
Best bladeless ceiling fan
The DIDER is a flush-mount ceiling fan with enclosed blades which offers 360 degrees of loft-inspired beauty and comfort. Also, light bulbs provide excellent lighting and decorative effects.
Read the full review
.
Bladeless ceiling fan comparison table
Name
Wattage, W
Size, inch
Blades
Reversible motor
Remote control
Review
DIDER

best overall

30
21
7
yes
yes
Review
Jinweite

budget

72
19
3
yes
yes
Review
Orison

low-profile

64
19.7
8
yes
yes, app operable (Wi-Fi, Bluetooth)
Review
What is a bladeless ceiling fan?
Contrary to their name, bladeless ceiling fans actually have blades that are located behind a special grille. It makes them a safer alternative to traditional fans with open blades, especially in rooms with low ceilings. Because of the small motor and the blades, which are hidden inside the structure like a cage, they are inconspicuous. The technology provides a smooth, constant airflow that is quieter and more energy efficient than conventional fans. And the variety of elegant and modern designs can complement any room décor. You just need to find your own right bladeless ceiling fan.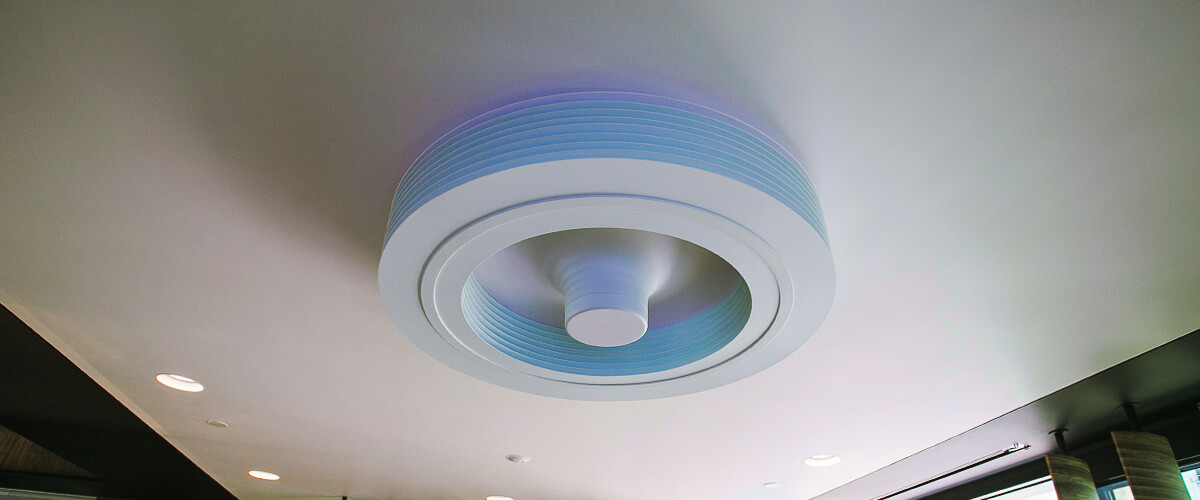 The benefits of bladeless ceiling fans
Safety:
First, I should mention safety – a major benefit I appreciate as a homeowner with young children and pets. The lack of open blades greatly reduces the risk of injury.
Efficiency:
Another advantage is their efficiency. Because they use less energy than traditional fans, they can help you save on energy bills in the long run. It is especially important when air conditioners can cause your energy bills to skyrocket during the hot summer.
Noise reduction:
Bladeless fans are also quieter than traditional fans. The lack of blades minimizes turbulence and vibration, resulting in much quieter operation. It is useful for bedrooms or living rooms, where low noise levels are preferred.
Space-saving:
Finally, bladeless ceiling fans also save space. Their compact design makes them ideal for small rooms or rooms with limited ceiling space. Suitable for those who want to enjoy the benefits of a ceiling fan but do not have a lot of space.
In conclusion, bladeless ceiling fans are a great cooling solution that offers many benefits. Proper maintenance and cleaning can last many years and provide reliable and efficient cooling for any home.
Best bladeless ceiling fan reviews
DIDER – best overall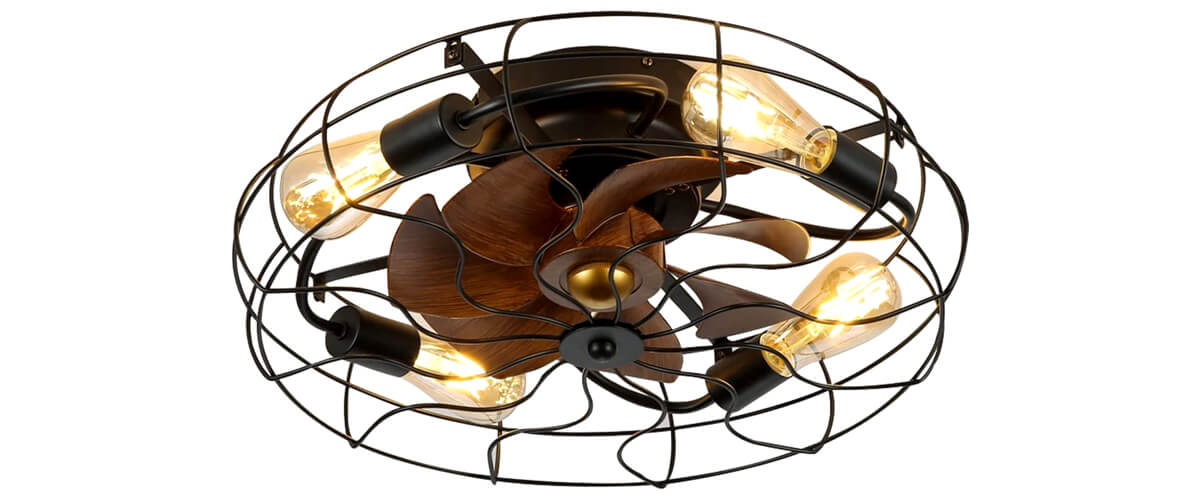 The DIDER Model 1052 opens my list with an incredible design, available in various colors (I have Black). It looks like an unusually shaped Loft chandelier with retro bulbs (5 included, one is a spare), with a black matte iron frame and 7 wood-colored blades.
There were no problems with installation; everything was easy and simple. The DIDER is 21″ in diameter and mounts flush to the ceiling, which saves space in your kitchen (the fan is 7.9″ high).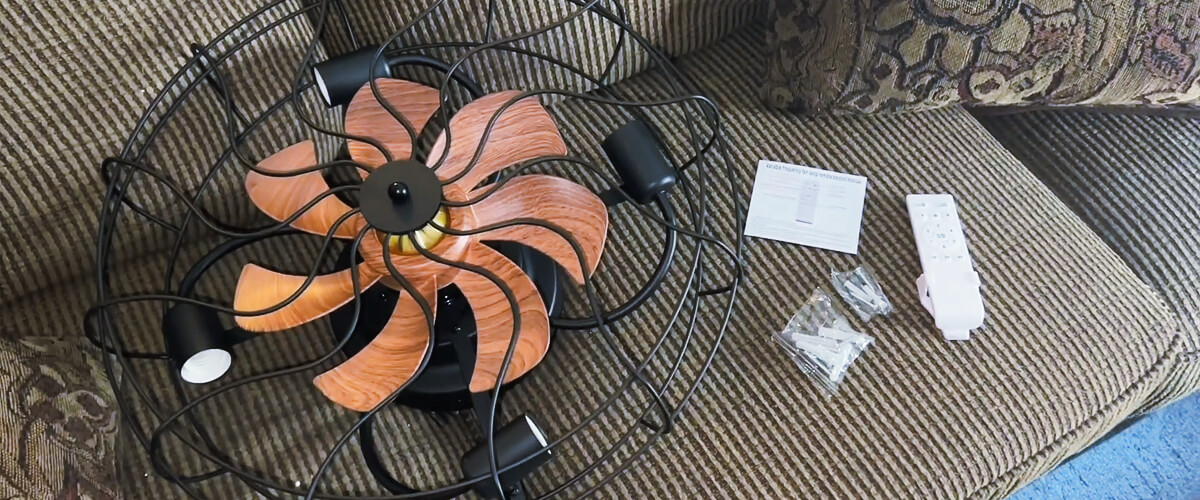 The Model 1052 has a quiet reversible motor with a 30 dB noise level and works in downward and upward draft modes. Really quiet enough; even at night, its monotonous smooth noise was not disturbing. You can switch modes and 3 speeds with the included remote control.
The DIDER Model 1052 will fill your kitchen with cool air pretty quickly, blending in with your house's interior. This is the best bladeless ceiling fan for those who appreciate style, quietness, coolness, and convenience.
Key specs
Power: 120 Volts (AC).
Wattage, W: 30.
Size, inch: 21.
Blades: 7.
Mounting type: flush.
Reversible motor: yes.
Remote control: yes.
Speed adjustment: 3 speeds.
Timer: up to 4 hours.
Special features: bulbs (included).
Pros
The original design.
Bright warm light, enough for a room or small kitchen.
Quiet operation is not disturbing even at night.
Controlled by remote control.
Cons
Some users have complained that this model sometimes turns on spontaneously, but I have had no such problems.
Jinweite – budget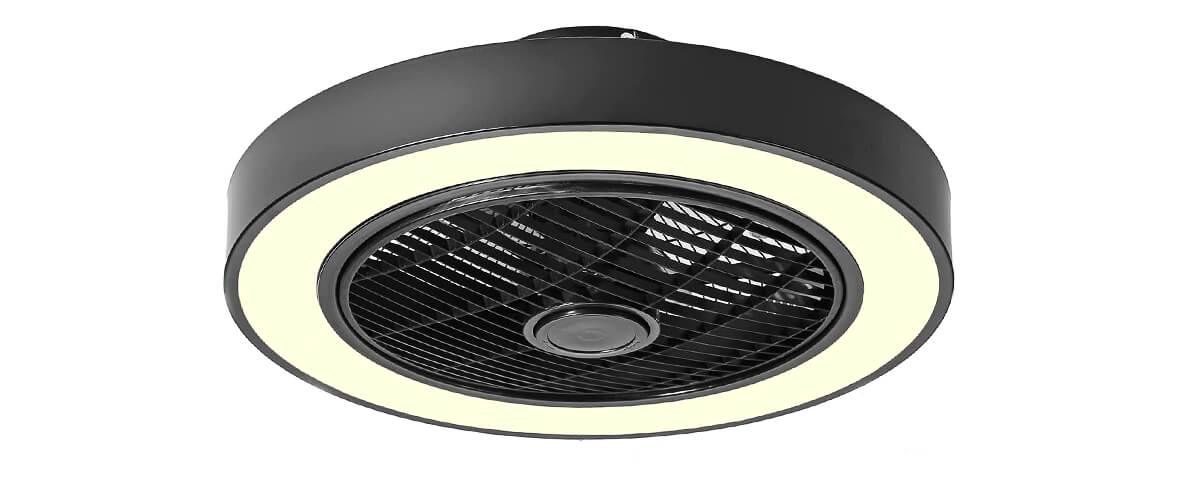 I present to you a budget bladeless ceiling fan with light Jinweite for those who like compactness and restrained design in a modern style. The model has 3 blades and is made of metal with a LED backlight that is fully dimmable: you get warm white, neutral white, and cool white tones of light with adjustable brightness. But you can't replace it separately; you'd have to replace the whole fan. Although, of course, it will work for a few years.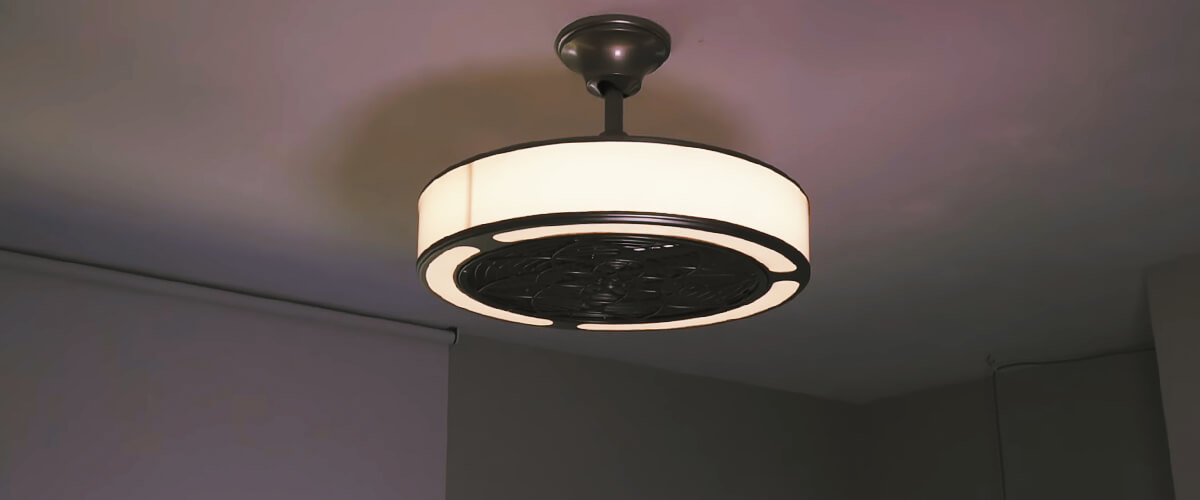 The light is only 19 inches in diameter and 6.3 inches high. Super for small rooms or kitchens. I imagined it would fit perfectly in a nursery with a bunk bed. But although it has 35dB of noise, it is still a little noisy. But you can set the timer for 1, 2, or 3 hours of work. The light modes and 3 speeds are controlled by a remote control, just like the DIDER.
Jinweite is great as a ceiling fan with no blades in a children's room with bunk beds, but it is also suitable for any other room where volume is not too important.
Key specs
Power: 110 Volts (AC).
Wattage, W: 72.
Size, inch: 19.
Blades: 3.
Mounting type: flush.
Reversible motor: yes.
Remote control: yes.
Speed adjustment: 6 speeds.
Timer: up to 2 hours.
Special features: LED, dimmable.
Pros
The compact, safe design is suitable even for children's rooms.
The reversible motor provides winter and summer operation.
Dimmable: three tones of illumination.
Cons
Can't replace the bulb, although it will work for several years.
A little noisy.
Orison – low-profile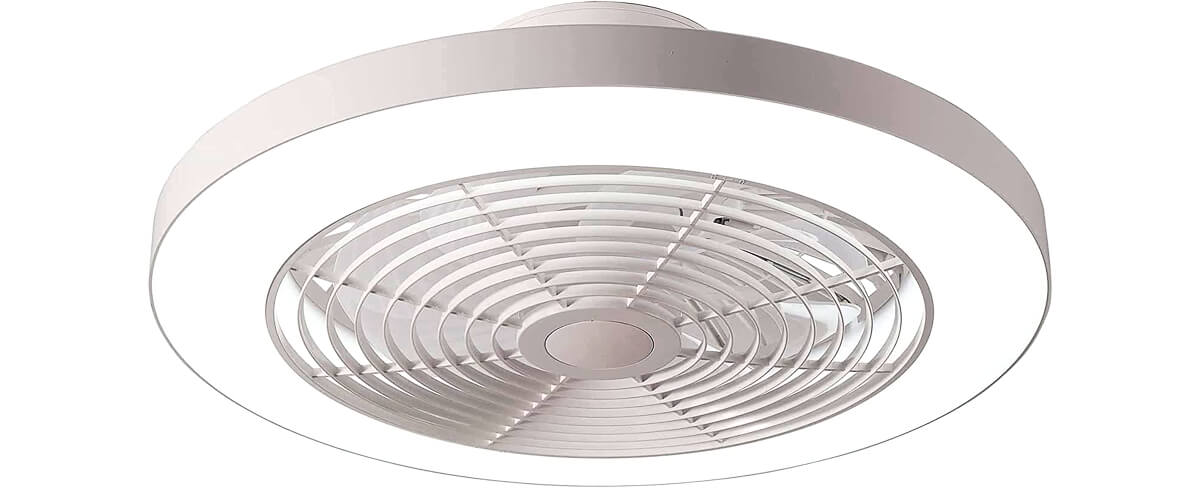 White bladeless ceiling fan Orison looks very similar to Jinweite but is a low-profile fan with LED lighting, saving space in rooms with low ceilings. The model is made of ABS with a metal net, has a diameter of 19.7, and has 7 blades.
Since the Orison has proven to be very quiet in operation, I think it would be excellent even for a bladeless ceiling fan for the bedroom, especially if it's not too big since the model is not very powerful. And the remote control that changes the 3 modes of light from 2700K to 6500K (white, neutral, and warm) and 3 speeds will help you not to get out of bed on cozy evenings.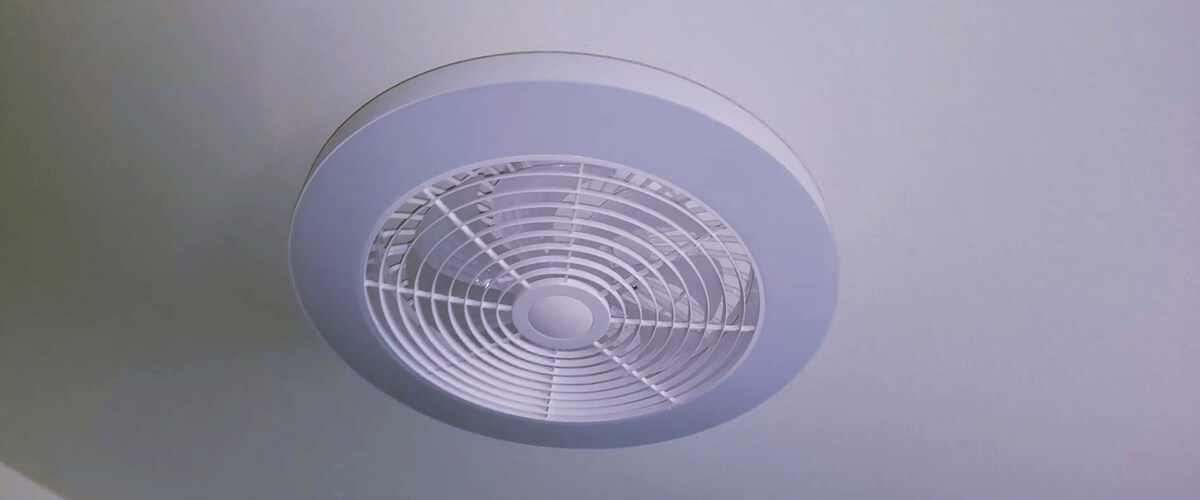 Fans of modernity will love the voice control built into the Alexa fan, but I don't see the point in that since there is a remote control. So don't judge me harshly; I will highlight this chip in the product's benefits.
It's also very easy to clean (because the net opens) and install it. Excellent choice. I love it.
Key specs
Power: 110 Volts (AC/DC).
Wattage, W: 64.
Size, inch: 19.7.
Blades: 8.
Mounting type: flush.
Reversible motor: yes.
Remote control: yes, app operable (Wi-Fi, Bluetooth).
Speed adjustment: 6 speeds.
Timer: N/A.
Special features: LED, dimmable.
Pros
The low profile design fits even rooms with very low ceilings.
Very quiet in operation and suitable for a small size bedroom.
Alexa voice control.
Cons
Alexa's work is insecure and incomplete. As far as I know, the manufacturer is solving this problem.
YANASO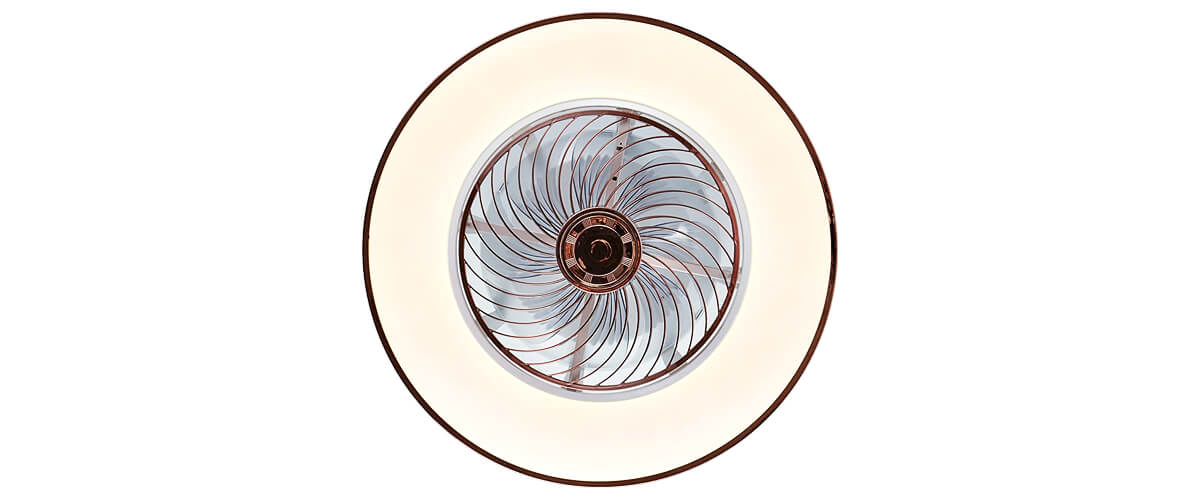 Next, the so-called ceiling fans without blades (although the fan has 8) with an ultra-slim housing for a LED lamp, which is also very easy to install, and has a Modern design with Rose Gold trim (other colors available) for stylish living rooms or bedrooms. YANASO is made of Plastic and Acrylic and hangs 7.48 inches from the ceiling.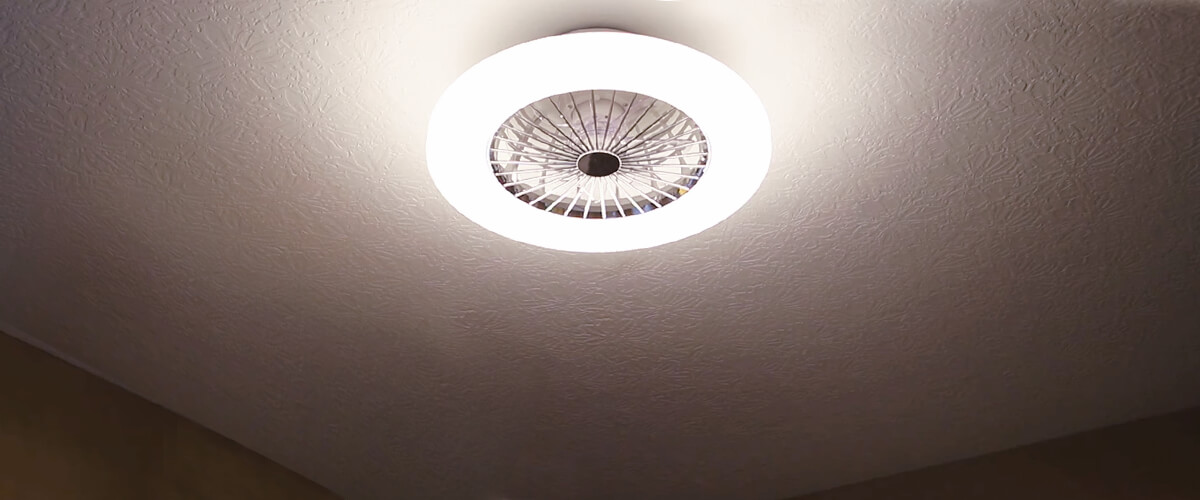 The fan still has the same 3 operating speeds and 3 light-tone modes. When testing, it showed super quiet operation; after a couple of minutes, I stopped noticing it. It comes with a remote and voice control, for which you have to install the APP "FanLampControl". And the only thing that confused me was that after turning it off and on again, the fan resets the last settings.
I recommend the YANASO as a more powerful and quieter alternative for larger rooms than the Jinweite and Orison.
Key specs
Power: 110 Volts (AC/DC).
Wattage, W: 47.
Size, inch: 22.
Blades: 8.
Mounting type: flush.
Reversible motor: yes.
Remote control: yes, app operable (Wi-Fi, Bluetooth).
Speed adjustment: 3 speeds.
Timer: yes.
Special features: LED, dimmable.
Pros
Beautiful design and lightweight materials of construction.
The tone of the light and fan power is suitable for larger rooms.
Very quiet in comparison to the Jinweite and Orison.
Cons
After turning it off and on again, the fan resets the last settings.
Ohniyou Cage Ceiling Fan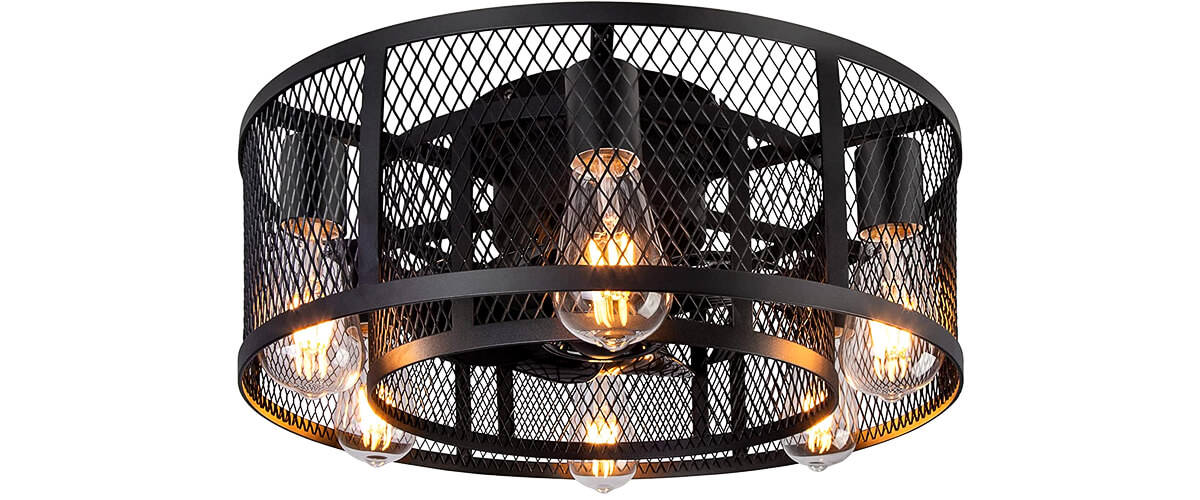 The Ohniyou Cage Ceiling Fan will fit perfectly in stylish people's living or dining rooms, but you will need high ceilings because the light is 9 inches high. By the way, you can also use it outdoors! It is similar in style to the DIDER and is a black (or brown) metal construction with 6 bulb warm light bulbs. I really like this industrial style.
Ohniyou has only three blades, and I'm considering it for small rooms up to 320 square feet (21″ diameter).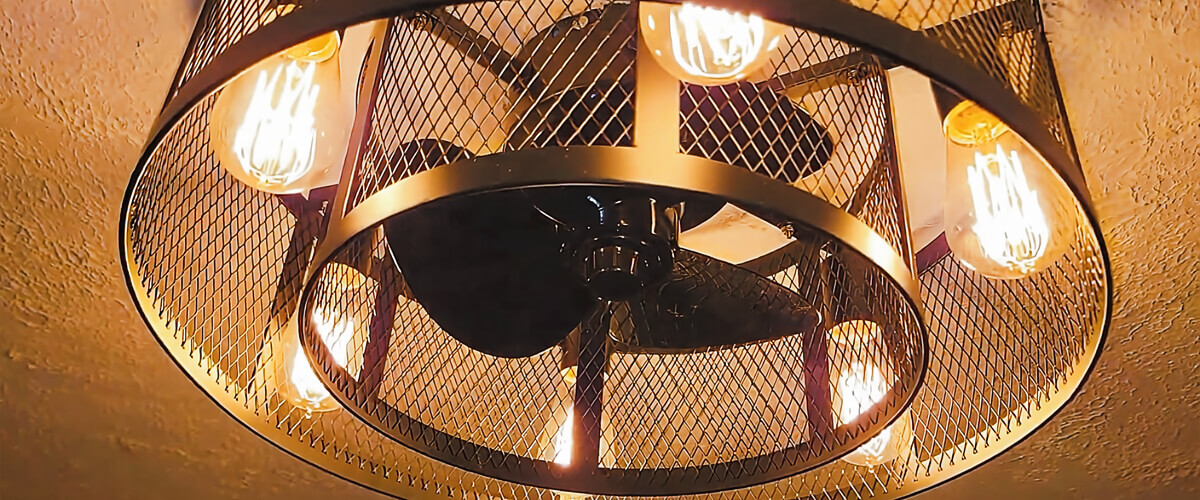 I found it quite noisy so I wouldn't put it in a bedroom. But you can adjust as many as 6 speeds and then reduce the volume of its operation. The Ohniyou motor is made of pure copper, and you can reverse the wind direction (windward and leeward) with the remote control. If you install it in your kitchen, you can safely rest after cooking by delaying the fan off for 1, 2, or 4 hours.
Ohniyou is a stylish solution for a variety of spaces. Yes, it may not be the optimal solution for the bedroom, but installing it in the living room, dining room, or office would be ideal.
Key specs
Power: 110 Volts (AC/DC).
Wattage, W: 60.
Size, inch: 21.
Blades: 3.
Mounting type: flush.
Reversible motor: yes.
Remote control: yes, app operable (Wi-Fi, Bluetooth).
Speed adjustment: 6 speeds.
Timer: up to 4 hours.
Special features: bulbs (not included), dimmable.
Pros
Stylish reliable design for living rooms or dining rooms.
Suitable for outdoor use.
The 6-bulb warm light bulbs illuminate the room well.
Delayed fan off for 1, 2, or 4 hours.
Cons
A bit noisy for bedroom use.
How to choose a bladeless ceiling fan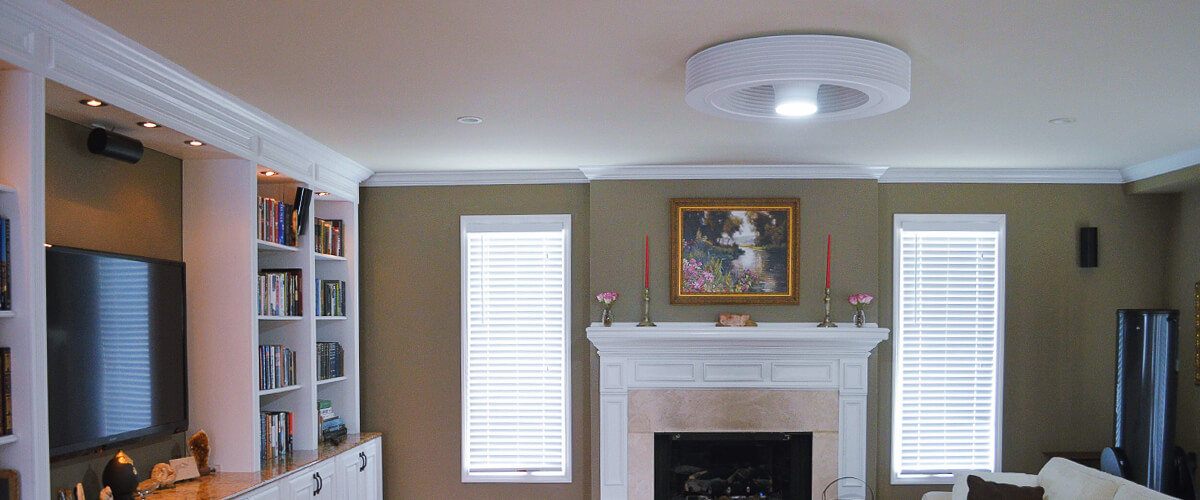 Design and aesthetics
The first factor to keep in mind is the design and aesthetics of the fan. It is important to choose a fan that complements the decor and style of your room. Do you agree? Fortunately, bladeless ceiling fans come in various finishes, colors, and styles, so there is something for every taste and preference.
Size and mounting options
Another important factor to consider is the size and mounting options for the fan. Choosing the right size fan is important based on the size of the room, ceiling height, and space available. You will find bladeless ceiling fans 16 to 22 inches wide. In addition, there are different mounting options, such as concealed mount, standard mount, and corner mount. Finally, ensuring the fan is installed safely and securely is important.
Control options
There are several control options for bladeless fans, each with unique advantages and disadvantages. But the choice depends on your personal preferences and lifestyle.
One popular control option is the remote control. Another popular control option is a wall switch. Wall switches are a more permanent option that can be mounted directly into the wall.
For those looking for even more advanced control options, smart home integration (using a smartphone or voice-activated device) is the way to go. It's important to note that this option can be more expensive than others.
Lighting features
Built-in lighting options such as LED lights, dimming features, and customizable color temperatures can enhance the atmosphere in a room. You can replace a lighting chandelier with a backlit fan in the kitchen, for example, as I did, and thus save space since most bladeless fans are up to 8 inches tall.
Energy efficiency and noise levels
Finally, energy efficiency and noise level are the most important factors when choosing a bladeless ceiling fan. Purchasing a fan with a high energy efficiency rating is important to save on your energy bills. In addition, a fan with a low noise level will help create a comfortable and quiet environment. So be sure to compare these characteristics in different models to make an informed decision.
FAQ
Do bladeless ceiling fans work well?
The answer is unequivocally yes, bladeless ceiling fans work well. Thanks to unique technology, bladeless fans are more efficient and effective than traditional fans. They provide a smooth and constant airflow, and many models also have energy-saving features that help reduce energy bills.
How often should I clean and maintain my bladeless ceiling fan?
Like any other appliance, bladeless fans require
regular cleaning and maintenance
to keep them running smoothly. It is recommended to clean the fan at least once a month by wiping the surfaces with a soft, damp cloth. It is also important to check and replace the fan filters as necessary.
What is the average lifespan of a bladeless ceiling fan?
Although the exact life depends on the model and operating conditions, most bladeless fans have a life span of approximately 10 to 15 years. However, proper maintenance and regular cleaning can help extend the life of a fan.
How quiet are bladeless ceiling fans compared to conventional fans?
Compared to traditional fans, bladeless fans produce much less noise, making them ideal for bedrooms, living rooms, and other areas where low noise levels are preferred. In addition, the lack of blades minimizes turbulence and vibration, resulting in much quieter operation.