Navigating the myriad options available when searching for the most suitable ceiling fans for high ceilings can often be a daunting task. Indeed, selecting an optimal fan isn't merely about style or aesthetics – there's a delicate balance between functionality and design to be considered.
This article aims to help you demystify the process and confidently choose a fan that aligns with your unique needs.
Our pick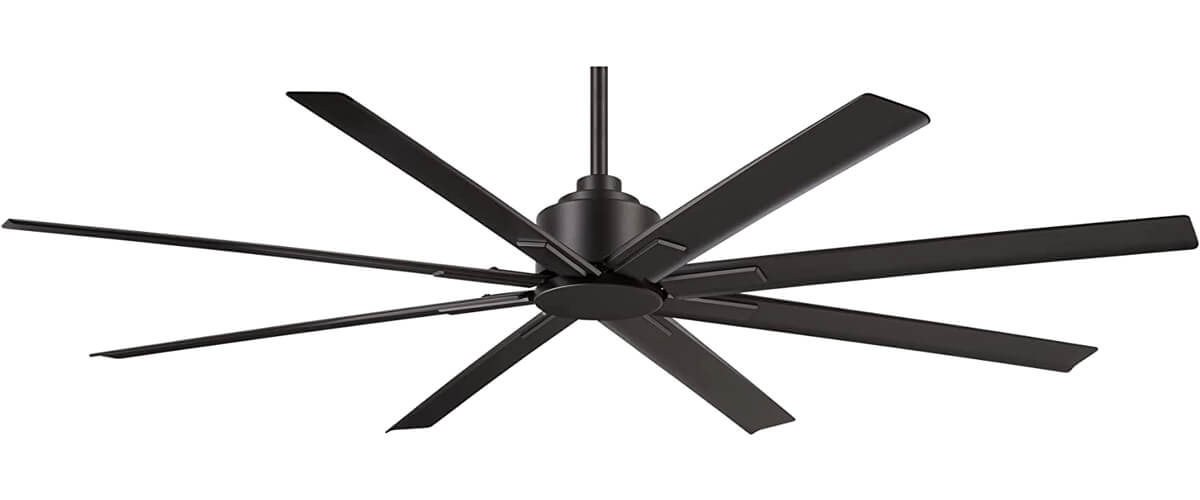 Minka-Aire F896-65
Best ceiling fan for high ceilings
Minka-Aire F896-65 is an outdoor ceiling fan that has an 8-blade design, perfect for any exterior space. Features a 65-inch blade span and remote control.
Read the full review
.
Ceiling fans for high ceilings comparison table
Name
Wattage, W
Size, inch
Blades
Reversible motor
Remote control
Review
Minka-Aire F896-65

best overall

20
65
8
yes
yes
Review
Monte Carlo 3MAVR60BK

also great

27
60
3
yes
yes
Review
Hunter Cassius

budget

64
52
3
yes
no
Review
Big Ass Fans Haiku L

premium

35
52
3
yes
yes, app operable (Wi-Fi)
Review
Features to look for in ceiling fans for high ceilings
In the following section, we'll delve into important features to consider in your quest for a high-ceiling fan. From the unit's size to downrod length, control options, and lighting, we'll explore how these factors contribute to the ideal choice.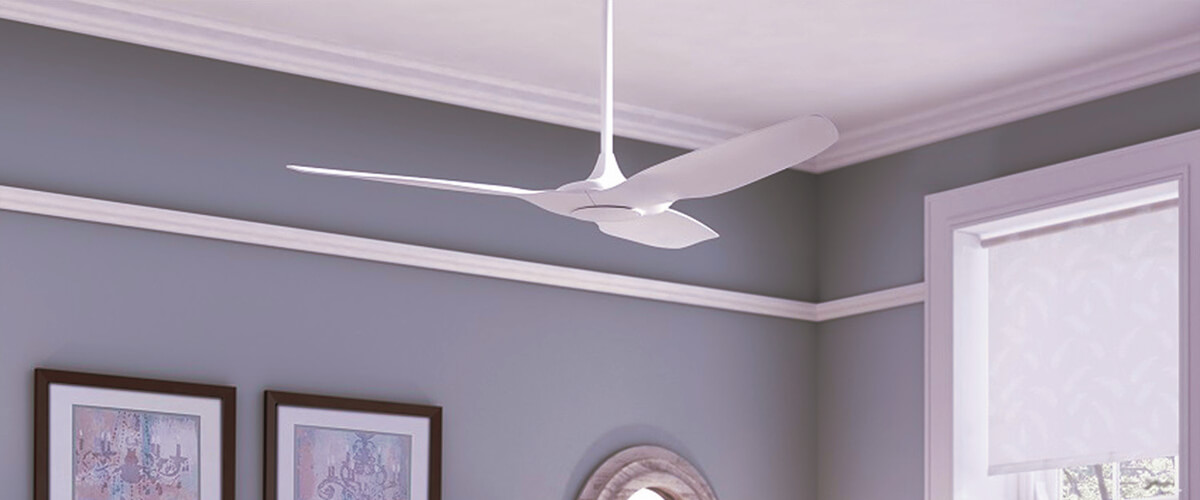 Fan size and blade span
When addressing high ceilings, choosing a proper ventilator can make a significant difference. To be specific, a large ceiling fan for high ceilings usually has a blade span ranging from 52 to 60 inches, although even larger options are available for particularly spacious rooms. This increased blade span allows for optimal air movement, creating a comfortable environment, and ensuring that the fan's cooling effect is felt throughout the entire room, regardless of its size or height.
Downrod length
A downrod, an often overlooked yet vital component, plays an essential role in the functionality of a ceiling fan. It's a simple rod that connects the fan to the ceiling, but its length can significantly affect the ventilator's efficiency.
In general, the higher the ceiling, the longer the downrod needed. This ensures that the fan is at an optimal height for effective air circulation. If the fan is too close to the ceiling, it can restrict airflow, which reduces the cooling effect.
Here's a general guideline on the recommended downrod length based on ceiling height:
| Ceiling Height (Feet) | Downrod Length (Inches) |
| --- | --- |
| 8 | 0 |
| 9 | 6 |
| 10 | 12 |
| 12 | 24 |
| 14 | 36 |
| 16 | 48 |
| 18 | 60 |
| 20 | 72 |
Remember, these are just recommendations. The optimal downrod length can also depend on personal preferences and the specific layout of the room.
Control options
Control options play an integral role in the ease of use and accessibility of fans for high ceilings. Traditional pull chains can be challenging to reach, making wall switches a more practical alternative. Remote controls provide another level of convenience, allowing adjustment from anywhere in the room. Many modern fans support smart home integration for an even more technologically advanced solution, enabling control via smartphone apps or voice commands through devices like Google Home or Amazon Alexa. This range of control options offers flexibility and ease, making your high-ceiling fan a breeze to operate, quite literally.
Lighting options
Incorporating lighting into ceiling fans is an efficient way to utilize space, especially in rooms with high ceilings. LED bulbs, a popular choice, offer energy efficiency and longevity. Some fans come equipped with built-in chandeliers, offering an elegant fusion of style and functionality. For fans without inbuilt lights, separate lighting kits are available, allowing for customization based on personal preference or room design. These options can efficiently illuminate expansive, high-ceilinged spaces, simultaneously providing air circulation and ample lighting, all while conserving energy and enhancing aesthetic appeal.
Best ceiling fans for high ceilings reviews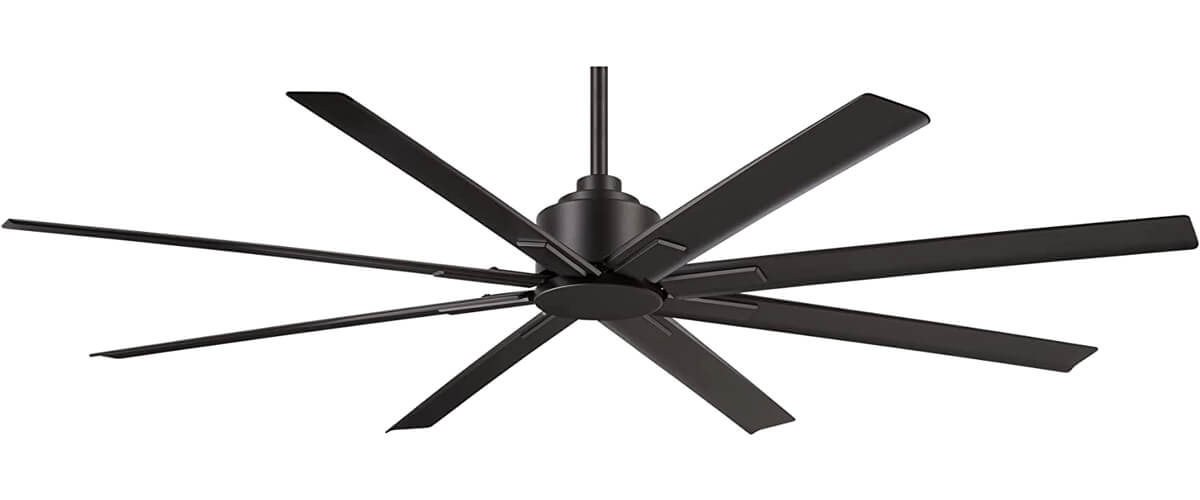 In the realm of cooling devices, the Minka-Aire F896-65-CL stands out with its extraordinary blend of style and function.
Its impressive 65″ blade sweep, crafted in a sleek coal finish, provides a refreshing breeze in spacious rooms. As I turned the fan on, I was struck by its seamless operation owed to the hushed DC motor, which ensures a serene atmosphere even at high speeds.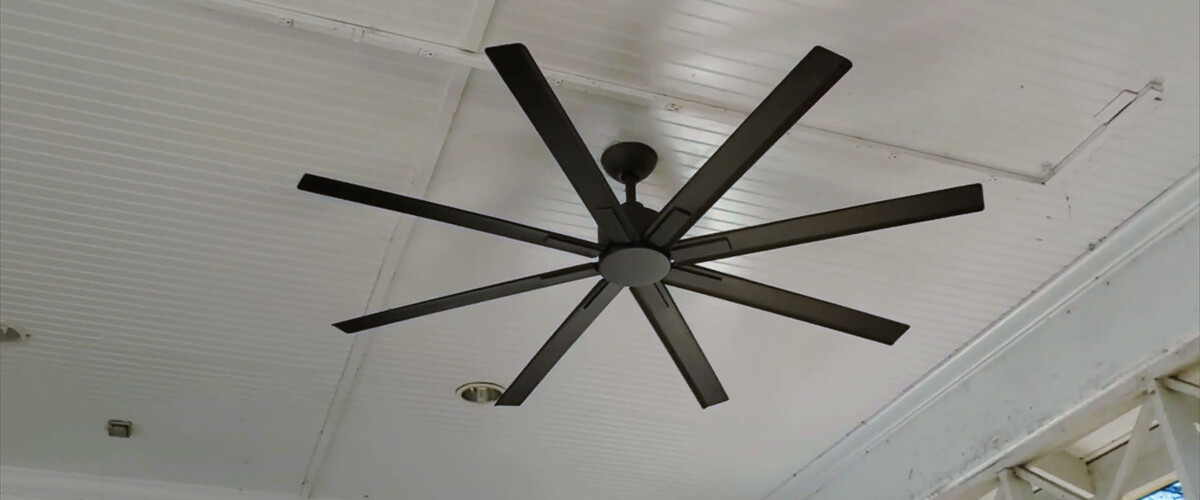 I also love the F896-65-CL's six-speed hand-held remote control. It allows for on-demand adjustments of the light dimming, the direction of the blades, and, of course, speed – a convenience that truly enhances the user experience. However, if you want to utilize the ventilator's smart home features, you'll need to invest in the Bond BD-1000 hub. This could be a potential drawback for those seeking a straightforward setup for integrating with their existing smart home devices.
Despite this, this unit's ability to function both indoors and outdoors is a significant advantage. It offers flexibility and can enhance the ambiance of various spaces, from living rooms to covered patios.
In summary, Minka-Aire F896-65-CL, with its substantial blade sweep, powerful yet quiet DC motor, versatility, and reasonable price, is the overall best ceiling fan for high ceilings. It won't disappoint modern homeowners desiring expansive air circulation.
Key specs
Power: 120 Volts.
Wattage, W: 20.
Size, inch: 65.
Blades: 8.
Mounting type: ceiling.
Reversible motor: yes.
Remote control: yes, app operable (Wi-Fi).
Speed adjustment: 6 speeds.
Timer: yes.
Special features: LED, dimmable.
Pros
Very solid.
Silent – you won't even realize it's on.
Is perfectly balanced.
Intuitive remote.
Cons
Tricky wiring – you may need an expert to install it.
Monte Carlo 3MAVR60BK – also great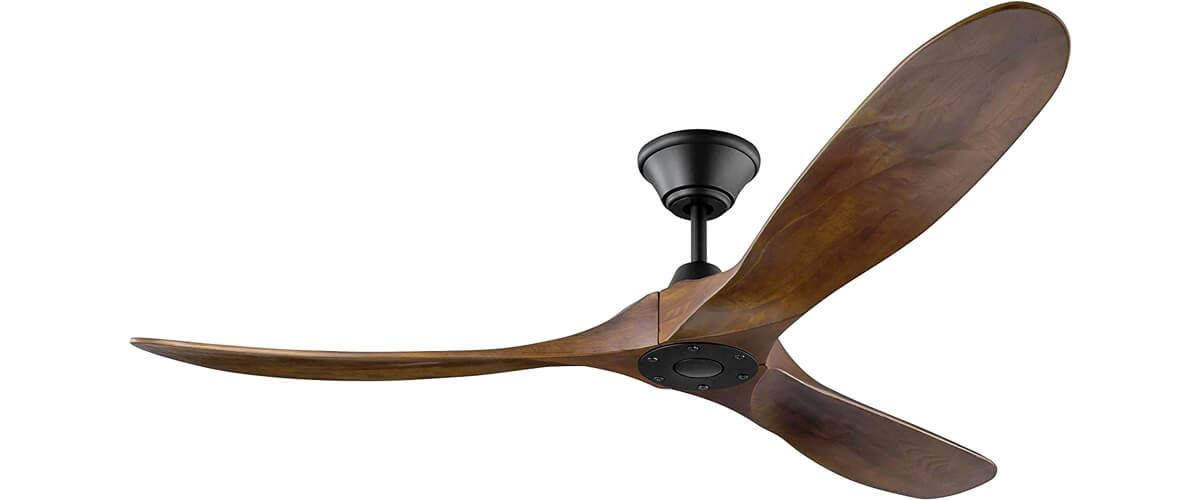 Monte Carlo 3MAVR60BK, while not as large as Minka-Aire F896-65-CL, packs a formidable punch in air circulation. Its blade span measures a substantial 60″, and when combined with the potent 85 X 28 mm DC motor, it ensures a robust airflow that can effortlessly cool expansive spaces.
What adds to its appeal is the six-speed hand-held remote control. It comes with a reversing function so that you can regulate the direction of the air circulation based on your needs.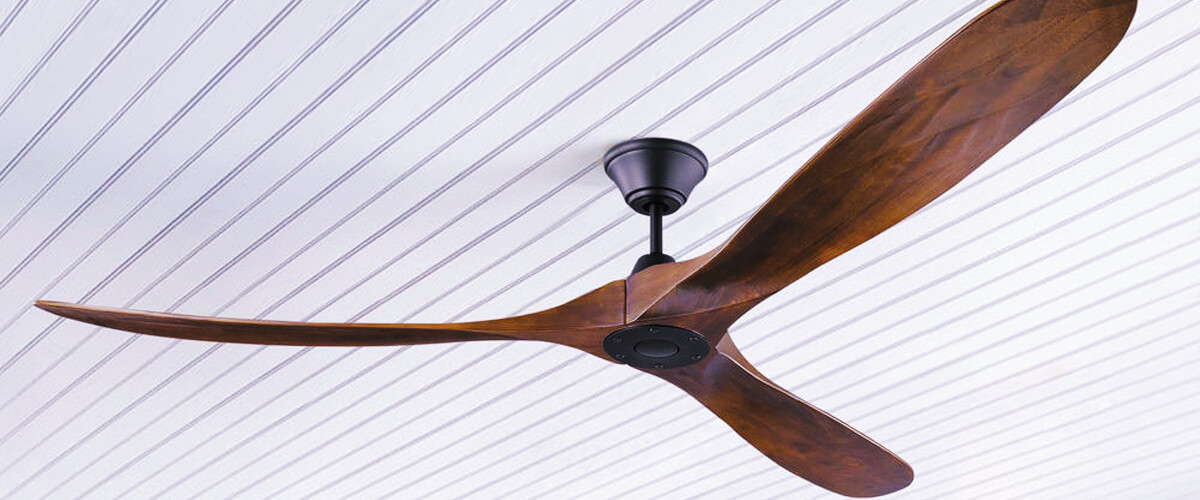 A standout characteristic of the 3MAVR60BK is its approval for damp locations. This means it's not only perfect for indoor use but also for covered outdoor areas.
However, you should be warned that it's quite heavy – 8.13 lbs. This might pose a challenge during installation and require additional hands or professional help.
So, if you're seeking a ceiling fan for large rooms with high ceilings that combines power, convenience, and a hint of rustic charm, the Monte Carlo 3MAVR60BK might just hit the spot.
Key specs
Power: 120 Volts.
Wattage, W: 27.
Size, inch: 60.
Blades: 3.
Mounting type: ceiling.
Reversible motor: yes.
Remote control: yes.
Speed adjustment: 6 speeds.
Timer: yes.
Special features: LED, dimmable.
Pros
Neat design.
High-quality components.
Very quiet when in motion.
Cons
Balancing is a challenge.
No intelligent controls or wall switches.
Hunter Cassius – budget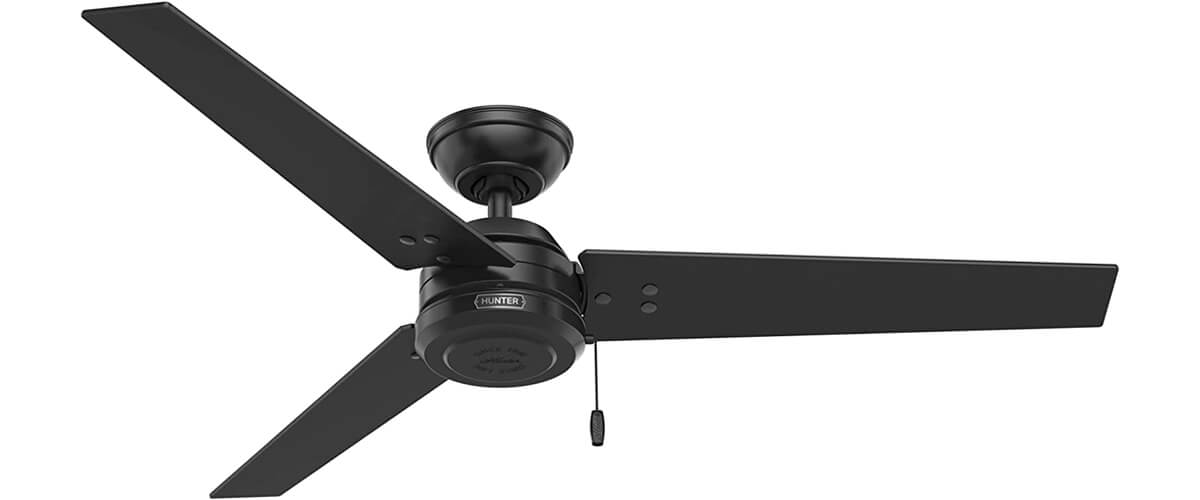 The Hunter Cassius ceiling fan proves that you don't have to break the bank to cool your home effectively. With its rustic aesthetic, this unit offers a refreshing blend of functionality and style. In addition, its blade design, featuring an appealing gray walnut stripe, can effortlessly rejuvenate the decor of any room.
One of my favorite features is the fan's Whisper Wind motor, which, true to its name, offers decent power without distracting noise. With multi-speed capabilities and a reversible function, this model can be easily tailored to seasonal needs – creating a cool downwash for summer days or an updraft to distribute warm air during winter. But note that if you live in a really hot region, the Cassius may not create enough breeze for you. You'll probably need bigger blades or more of them.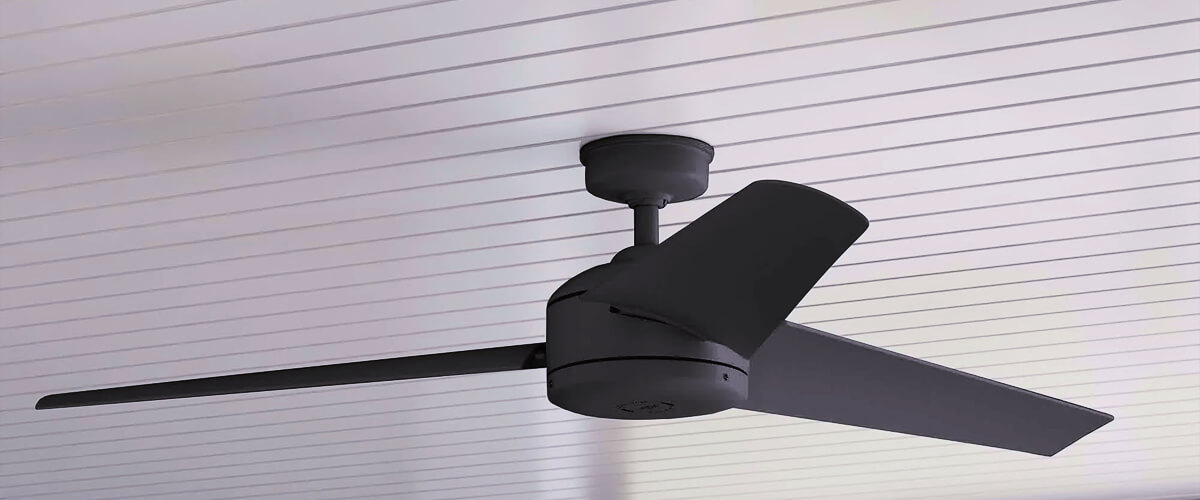 The convenience of pull chain control is another asset, allowing for effortless power and speed adjustments. However, those with high ceilings might find reaching the chain a bit challenging.
The versatility of the Cassius extends to room placement. Whether it's a sun-drenched patio or a cozy living room, the fan's damp-rated status and adjustable height make it a good fit for various indoor and outdoor settings.
The Hunter Cassius strikes a balance between cost-effectiveness and efficiency. Its industrial design, powerful Whisper Wind motor, and adjustable functions provide homeowners with a variety of cooling options.
Key specs
Power: 120 Volts.
Wattage, W: 64.
Size, inch: 52.
Blades: 3.
Mounting type: downrod.
Reversible motor: yes.
Remote control: no.
Speed adjustment: 3 speeds.
Timer: no.
Special features: LED, dimmable.
Pros
Simple yet quality.
Well-balanced right out of the box.
No wobble.
Easy to install.
Cons
No modern features.
May be not sufficient for very hot areas.
Big Ass Fans Haiku L – premium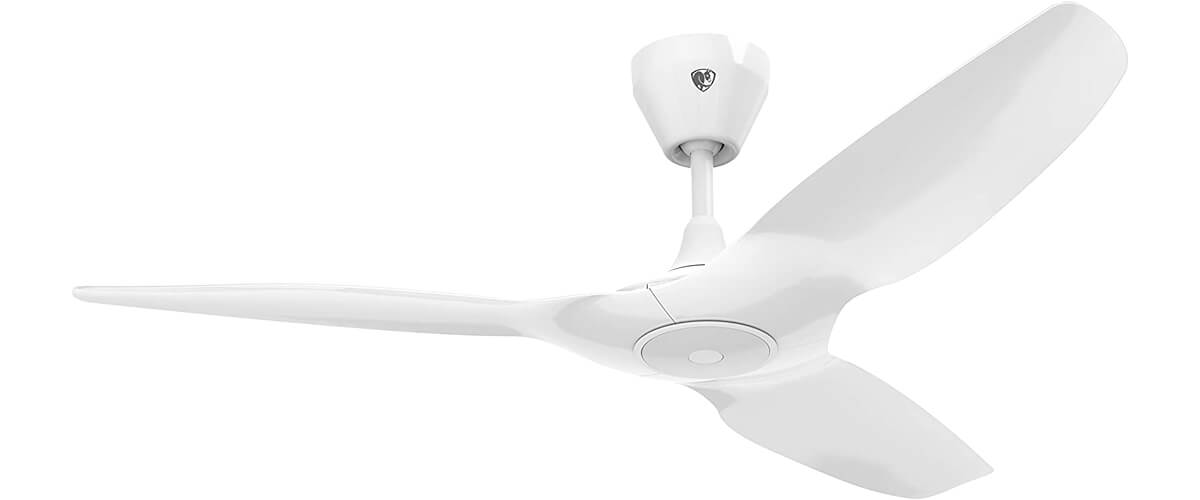 After testing the Big Ass Fans Haiku L, I can confidently state it's a game-changer in the ceiling fan world. Its seven-speed options cater to every need, ranging from a soft breeze to a robust wind. Its ingeniously designed Whoosh mode expertly recreates the erratic charm of an outdoor breeze, and its Eco mode thoughtfully balances power savings and uncompromised comfort.
Craftsmanship shines through in the fan's impeccable balance. Sound-tested to eliminate any wobbling or clicking, it ensures whisper-quiet operation, making it ideal for peaceful nights and work-from-home days.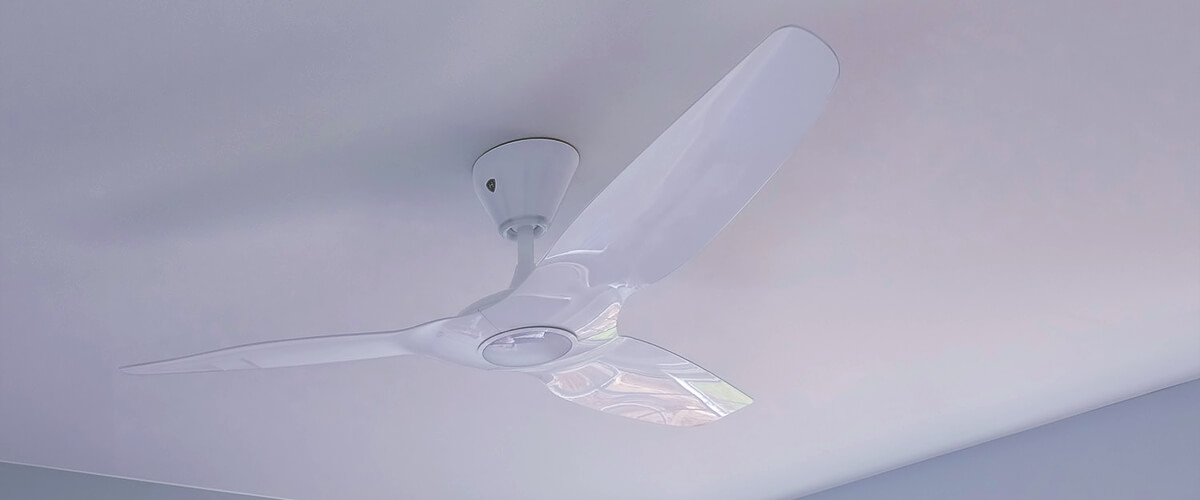 It's impossible not to mention the integrated LED light kit that generously offers 16 luminosity levels, outshining a typical 60-Watt bulb. The resultant warm white glow can transform any room into a cozy haven.
The inclusion of the WIFI module is a masterstroke, enabling control via the Haiku app. This provides an immersive, personalized experience, right down to fan speed, light intensity, and timer settings. Compatibility with Amazon Alexa and Google Assistant further elevates the convenience factor, allowing for seamless voice-command operations.
In essence, the Haiku L is a premium large ceiling fan with lights for high ceilings that delivers an impressive performance, justifying its price tag. You can't help but love this blend of smart technology, efficiency, and aesthetic appeal that raises the bar for contemporary home cooling solutions.
Key specs
Power: 120 Volts.
Wattage, W: 35.
Size, inch: 52.
Blades: 3.
Mounting type: downrod/universal.
Reversible motor: yes.
Remote control: yes, app operable (Wi-Fi).
Works with: Amazon Alexa,Google Assistant, Vera.
Speed adjustment: 7 speeds.
Timer: yes.
Special features: LED, dimmable.
Pros
Moves tons of air.
The design will never go out of style.
Zero noise.
Comes in various colors.
Cons
The remote isn't really intuitive.
Although the light is quite bright, the fan doesn't throw much out to the sides.
Honeywell Kaliza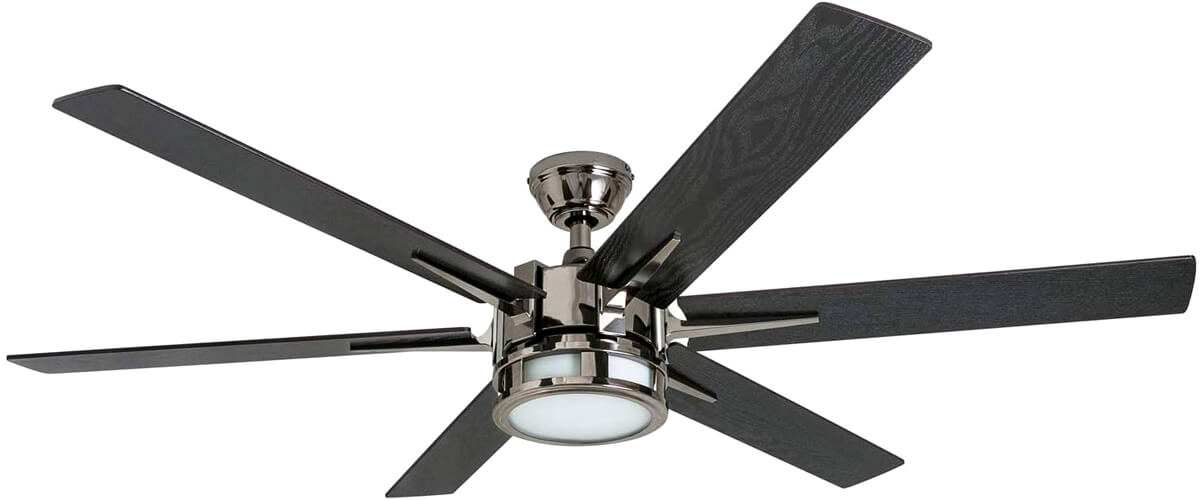 When it comes to servicing rooms with high ceilings, particularly those over 400 sq. ft., the Honeywell Kaliza stands out as an effective solution. Flaunting modern lines and a substantial 56-inch diameter, it's a fusion of contemporary style and potent airflow. A unique facet of this fan is its adaptable mounting options, making installation quite easy whether you're dealing with flat or vaulted ceilings.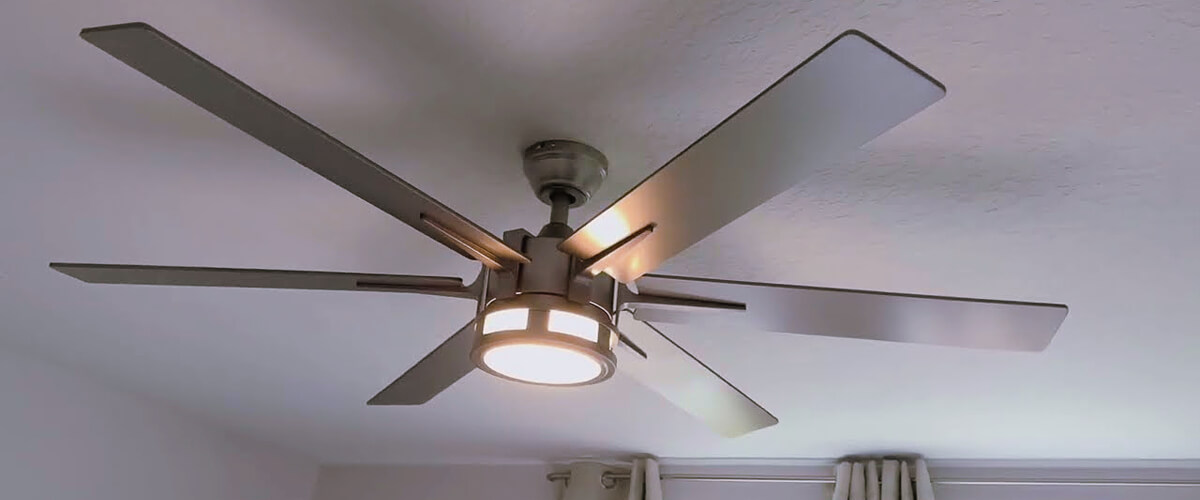 It's worth noting, however, that its sole focus on indoor use can limit its versatility, particularly for those seeking a uniform aesthetic indoors and outdoors.
While the Honeywell Kaliza represents quality and style, its indoor-only functionality and lack of smart features account for its ranking on this list. Nevertheless, this ceiling fan is a worthy contender for substantial indoor spaces and high-sloped ceilings.
Key specs
Power: 120 Volts.
Wattage, W: 18.
Size, inch: 56.
Blades: 6.
Mounting type: wall.
Reversible motor: yes.
Remote control: yes.
Speed adjustment: 3 speeds.
Timer: yes.
Special features: LED, dimmable.
FAQ
Do ceiling fans work with high ceilings?
Absolutely! Ceiling fans are really effective for high ceilings. However, it's important to select a fan with the appropriate size and downrod length to ensure optimal air circulation. Fans designed for high ceilings often have larger blades and longer downrods to bridge the distance between the ceiling and the living space, thus efficiently distributing air.
Are downrods for ceiling fans universal?
While many downrods have a universal fit, not all of them are interchangeable between different brands or models. It's important to check the compatibility of the downrod with the specific fan model. Many manufacturers provide their own downrods designed to fit their fans perfectly, ensuring stability and safety.
What happens if the ceiling fan is too big for the room?
A fan that is too large for a room can be overpowering and might not circulate air as effectively as one of the correct size. It could also consume more energy than necessary. Conversely, a unit that is too small may not adequately cool the room. Therefore, it's crucial to consider the room size and fan blade span when selecting a fan.
What size fan is best for a high ceiling?
Generally, large ceiling fans with a blade span of 52 inches or more are suitable for rooms with high ceilings. However, the room's dimensions, the fan's downrod length, and the desired airflow should also be considered. A larger room may require a fan with a larger blade span. Conversely, smaller but high-ceilinged spaces might benefit from a fan with a smaller blade span but a longer downrod.