Welcome to my guide on the best ceiling fans for vaulted ceilings! I have extensive experience interacting with them, so finding a suitable model for a vaulted ceiling can be challenging. This type of ceiling requires a fan with a longer downrod, which can make picking a fan tough that would be both truly useful and aesthetically pleasing. That's why I've researched for you and compiled a list of some of the coolest ceiling fans for high vaulted ceilings on the market. So, whether you're looking for a stylish and contemporary or a more traditional fan, I've got you covered. Let's dive in!
Our pick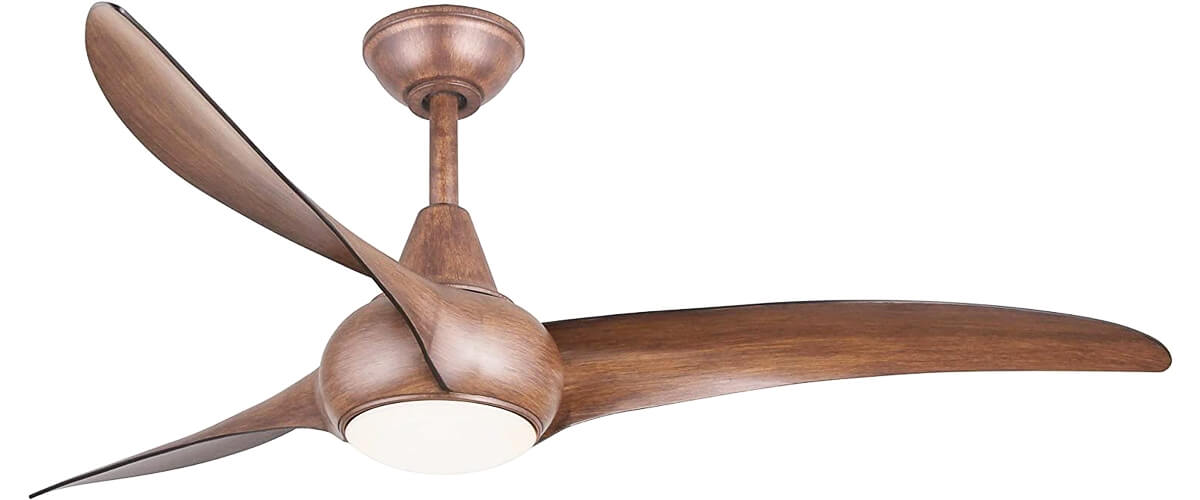 Minka-Aire F844
Best ceiling fan for vaulted ceiling
The Minka-Aire Light Wave ceiling fan featured integrated 16 Watt Dimmable LED Light, a three-speed reversible motor with remote control to aid in rotating air and reduce energy costs.
Read the full review
.
Ceiling fan for vaulted ceiling comparison table
Name
Wattage, W
Size, inch
Blades
Reversible motor
Remote control
Review
Minka-Aire F844

best overall

65
52
3
yes
yes, app operable (Wi-Fi), voice control
Review
Sofucor KBS-52144

budget

35
52
3
yes
yes
Review
Monte Carlo 3MAVR60BK

for large rooms

27
60
3
yes
yes
Review
Hunter Dempsey

for small rooms

60
44
4
yes
yes
Review
What kind of ceiling fan is needed for a vaulted ceiling?
While it may seem simple, picking the proper fan is not easy, as it is important to ensure adequate air circulation and comfort in your home. If you have a vaulted ceiling, you need to have a specially designed fan with certain essential features and characteristics. Two of these features are a long downrod and an angled installation option.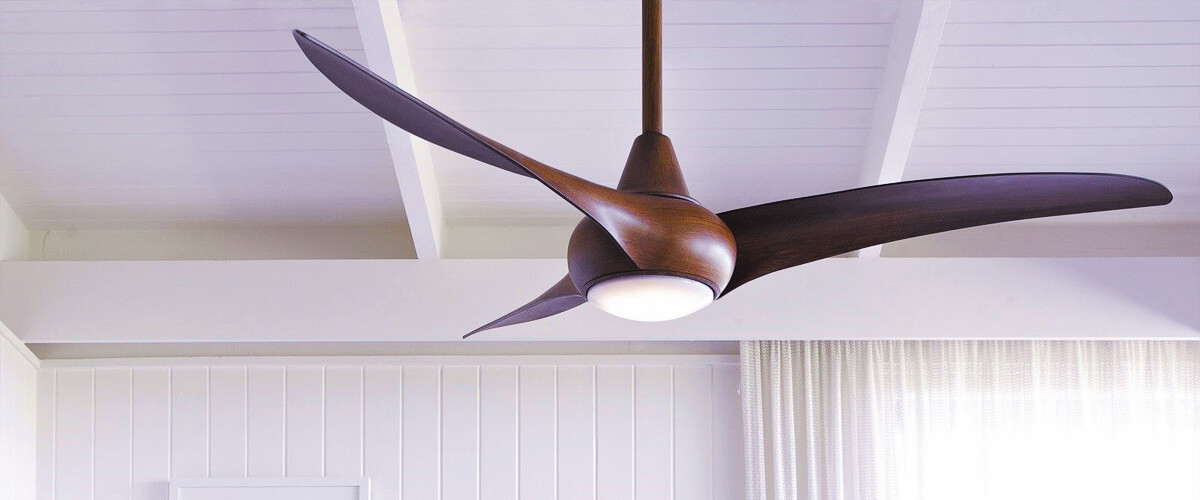 Long downrod
So, to match the vaulted ceiling, a fan needs to have a long downrod. This allows you to set it to the proper height for optimal air circulation. A downrod is a metal pipe that extends from the ceiling mount to the fan and can range in length from a few inches to several feet. As it goes from the explanation, most frequently, these rods are used in places with high ceilings and allow for conveniently measuring the height of the mount for maximum effectiveness.
Angled installation option
In this case, it is often necessary to get a fan with a compatible canopy. In short, it is a part of the mounting structure located on the ceiling. Most ceiling fans can operate at an angle of up to 30 – 45 degrees. Still, choosing a fan with an angled installation option is vital to ensure proper installation on a vaulted ceiling. It will ensure the fan is mounted securely and operates smoothly without wobbling or other issues.
In the following sections, I will look at some of the best ceiling fans for vaulted ceilings with these essential characteristics.
Best ceiling fan for vaulted ceiling reviews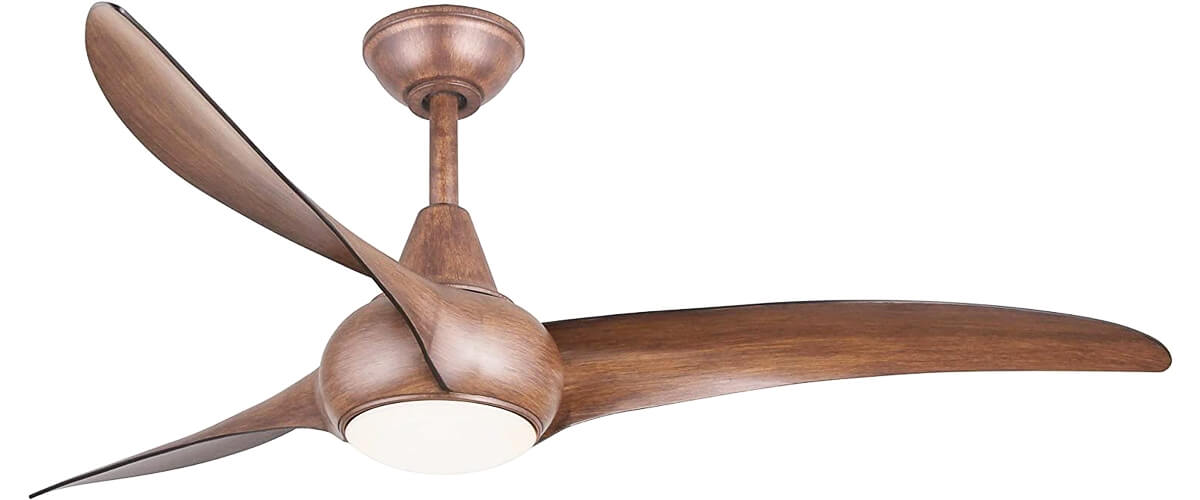 So, typically for my temper, I love to start my reviews from the most remarkable devices. Minka-Aire F844 offers a 52-inch blade spread and a 14-degree blade pitch. Interestingly, it has a 6-speed DC motor. The idea is to give you flexibility in adjusting speed to the current need. Yet, I usually stick to the same speed once I find which is the most convenient. It also comes with a built-in LED and can provide additional illumination.
Its portable remote is a whole other story. Once they started adding those to ceiling fans, remotes became real game-changers. Yet, those are a must and not some super feature work special attention. But voice control is definitely what does. I felt much more excited connecting the fan with Google Assistant.
Altogether The Minka-Aire F844's elegant appearance and innovative functions pleased me. The fan's interoperability with smart home gadgets makes it easy to operate. With the convenience of a handheld remote control and multiple speed options, this fan offers unparalleled versatility. Moreover, its whisper-quiet operation creates a peaceful atmosphere, which is a huge plus for me. If you're looking for a new ceiling fan that's both attractive and useful, the Minka-Aire F844 is an ideal option, as it is the best ceiling fan for vaulted ceilings.
Key specs
Power: 120 Volts.
Wattage, W: 65.
Size, inch: 52.
Blades: 3.
Mounting type: protruding.
Reversible motor: yes.
Remote control: yes, app operable (Wi-Fi), voice control.
Works with: Alexa, Amazon Alexa (device for voice control sold separately).
Speed adjustment: 3 speeds.
Timer: yes.
Special features: LED, dimmable.
Pros
Interesting design complements various interior styles with its modern looks.
Works amazingly well with voice assistants.
Cons
Slightly challenging and time-consuming installation, requiring careful attention to detail.
Sofucor KBS-52144 – budget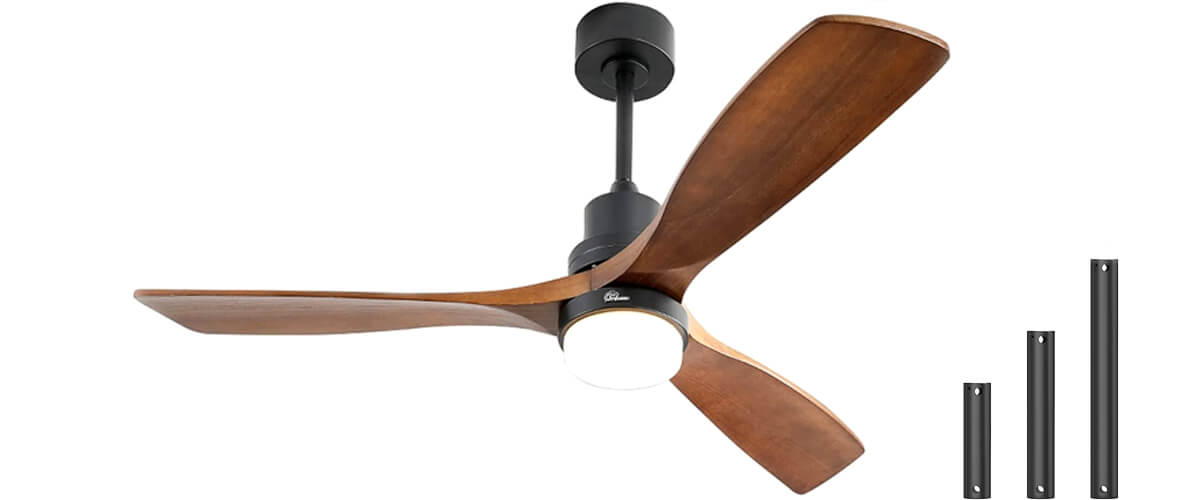 If you're on a budget but still want a high-quality ceiling fan. In that case, the Sofucor KBS-52144 has all the chances to be your optimal ceiling fan for a vaulted ceiling with a remote. In addition, its noiseless reversible motor is a considerable plus, allowing for a more pleasant sound atmosphere at home.
The Sofucor KBS-52144 offers a 52-inch blade span and a 15-degree blade pitch, making it suitable for most medium to large-sized rooms. However, what I enjoyed the most is that the fan has a reversible motor that operates quietly, ensuring you won't be disturbed by loud noises while the fan is running.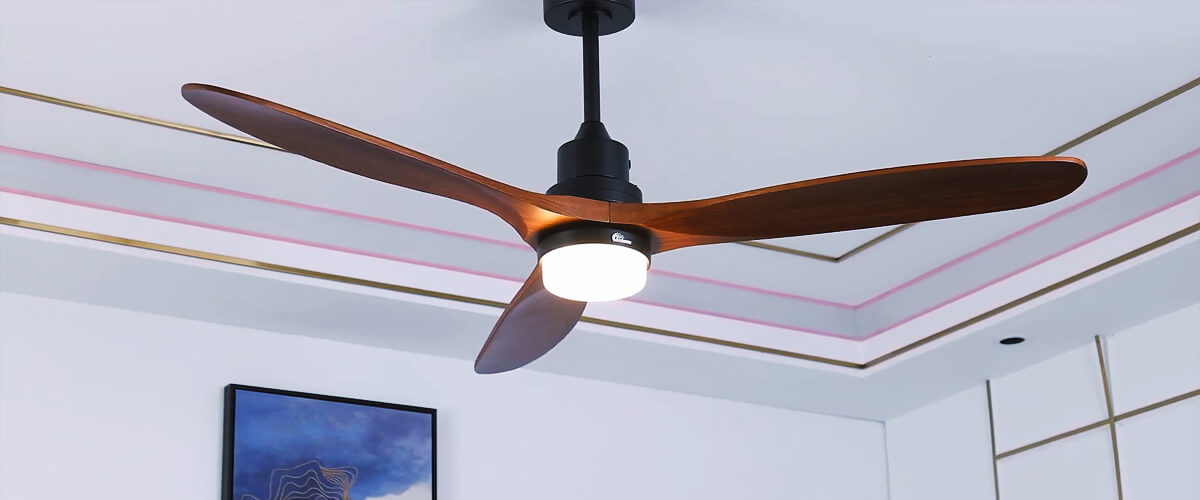 This fan also comes with a remote control, but as I have said, it is typical. It also features a dimmable LED light, and combined with its wooden looks, I like the aesthetics of this model more than the F844.
Its stylish design, noiseless reversible motor, and dimmable LED light make it look as appealing and interesting as more expensive fans. Thus, it is a valuable option for those seeking a reliable and visually appealing ceiling fan without breaking the bank.
Key specs
Power: 120 Volts.
Wattage, W: 35.
Size, inch: 52.
Blades: 3.
Mounting type: ceiling.
Reversible motor: yes.
Remote control: yes.
Speed adjustment: 6 speeds.
Timer: up to 4 hours.
Special features: LED, dimmable.
Pros
Its noiseless reversible motor allows for a serene and peaceful environment.
Stylish design, adding a touch of sophistication to any room.
Customizable ambiance with the dimmable LED light is great for setting the mood of the room.
Cons
Remote could be better, because it feels rather cheap.
Monte Carlo 3MAVR60BK – for large rooms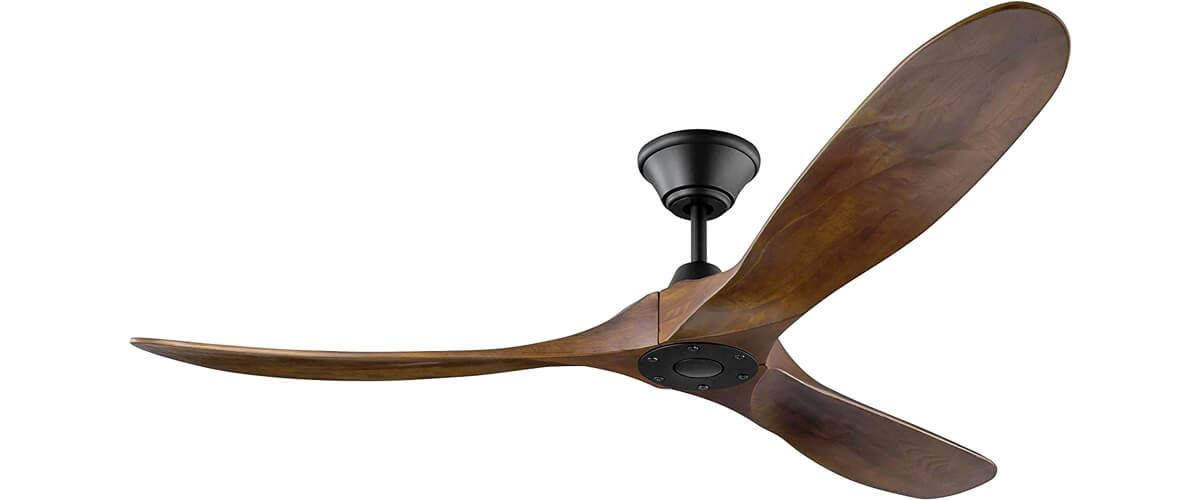 When it comes to large rooms, it is essential to have a large ceiling fan that can move enough air to keep everyone comfortable. From my experience, a single bigger fan is far more beneficial than two smaller ones because it is much easier to create proper air circulation in the former case. The Monte Carlo 3MAVR60BK ceiling fan is designed specifically for large spaces, with a powerful motor and an impressive blade span of 60 inches.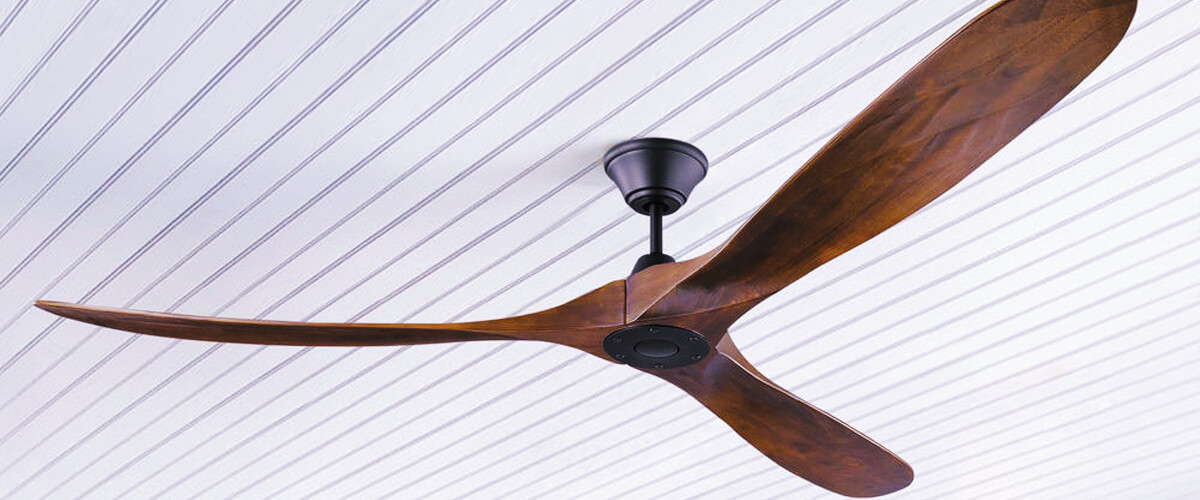 This fan has a powerful 85-watt motor and three precision-balanced blades. Interestingly, the company balanced them so they produce way less noise than I expected, considering their size.
Compared to other fans in this review, the Monte Carlo 3MAVR60BK stands out with its impressive blade span and powerful motor. It is also relatively quiet. For me, it is imperative to maintain a peaceful atmosphere in almost any place.
The Monte Carlo 3MAVR60BK is an excellent choice for anyone looking for a ceiling fan to keep a large room cool and comfortable. The sleek and modern design and the fan operates quietly, making it an ideal choice for bedrooms or living rooms.
Key specs
Power: 120 Volts.
Wattage, W: 27.
Size, inch: 60.
Blades: 3.
Mounting type: ceiling.
Reversible motor: yes.
Remote control: yes.
Speed adjustment: 3 speeds.
Timer: yes.
Special features: LED, dimmable.
Pros
The most powerful motor extensive blade span in the review.
Fashionable design, with contemporary elements balanced in a way to suit any room.
The noise level is way lower than you can expect from a fan of this size.
Cons
The fan doesn't have built-in light.
Achieving proper balance may require the use of the provided weights.
Some users may find installation a bit difficult.
Hunter Dempsey – for small rooms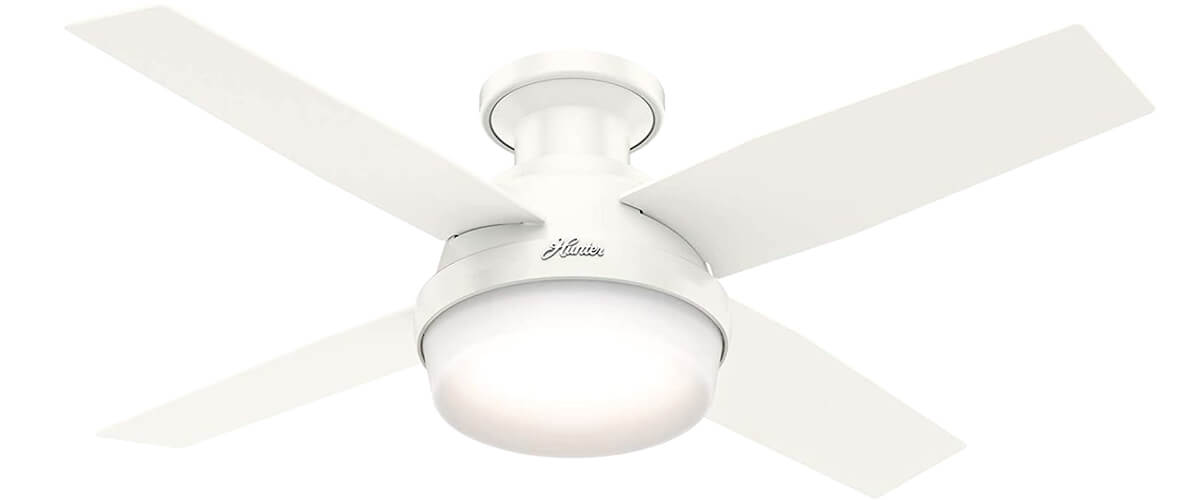 Finding the perfect ceiling fan can be a challenge, especially if you are searching for an option for a small room. This is when Hunter Dempsey comes to the rescue, being a very solid solution for small rooms.
So, the fan has a 44-inch blade span, making it ideal for rooms up to 100 square feet. It also features a low-profile design, making it an excellent option for spaces with lower ceilings. The Dempsey also comes with dimmable and energy-efficient LED like the Carlo 3MAVR60BK.
The fan has only 3-speed settings, which is a drawback but not a serious one. At the same time, one can't miss its low-profile design. I appreciate Hunter Dempsey for its versatility and practicality.
Another interesting aspect is Hunter's SIMPLEconnect Wi-Fi app. I liked how much convenience it added, allowing me to control the fan from my phone. It also serves as a compatibility layer allowing one to control the fan using Alexa and Google Assistant.
Overall, the Hunter Dempsey is an excellent choice for those needing a ceiling fan for a small room. It's stylish, energy-efficient, and easy to operate with its proprietary
Key specs
Power: 120 Volts.
Wattage, W: 60.
Size, inch: 44.
Blades: 4.
Mounting type: low profile.
Reversible motor: yes.
Remote control: yes.
Speed adjustment: 3 speeds.
Timer: yes.
Special features: LED, dimmable.
Pros
The well-designed remote includes a holder that fits over the wall switch plate, allowing convenient access to the existing switch.
The fan operates quietly, even at high speed, with no audible noise from the fan blades.
Hunter's SIMPLEconnect Wi-Fi app brings a lot of convenience with an extensive control.
Cons
The dimmable light may not be too dark for reading.
The instructions provided with the included balancing kit are insufficient and unclear.
Roboto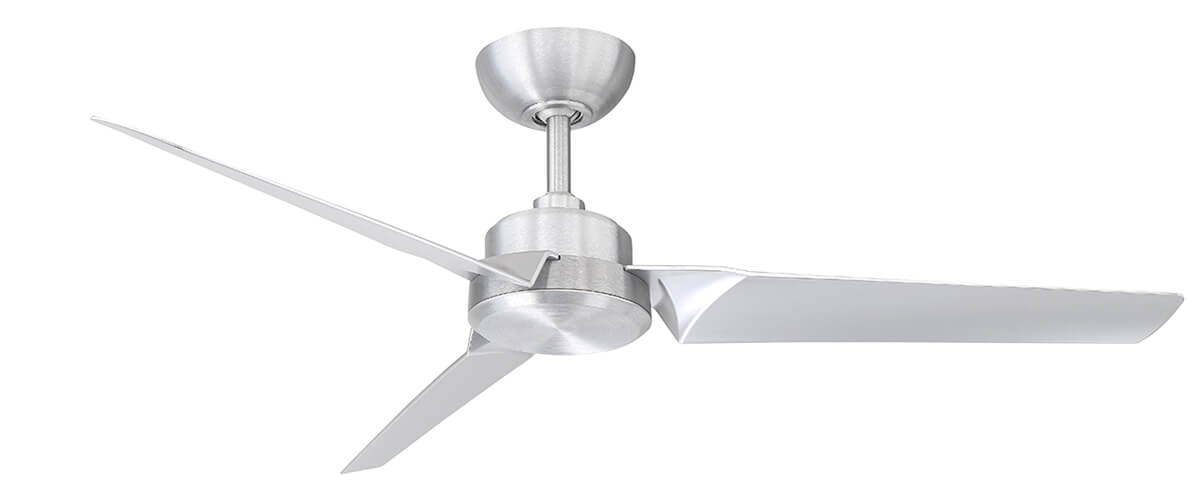 A Roboto ceiling fan is definitely an interesting option, especially if you are searching for something to meet your aesthetic needs. This fan has a 52-inch blade span and is powered by a reversible motor. Ideally, it should provide almost noiseless air circulation, but it still produces more noise than Sofucor KBS-52144, which showed as low as 35 decibels during my tests.
Another aspect that puts this fan below in the list and equals it to Hunter Dempsey features three adjustable speeds. I have already mentioned that there is no need for multiple speeds, but it is always good to have a number to choose from. So, the more speeds a fan offers, the better.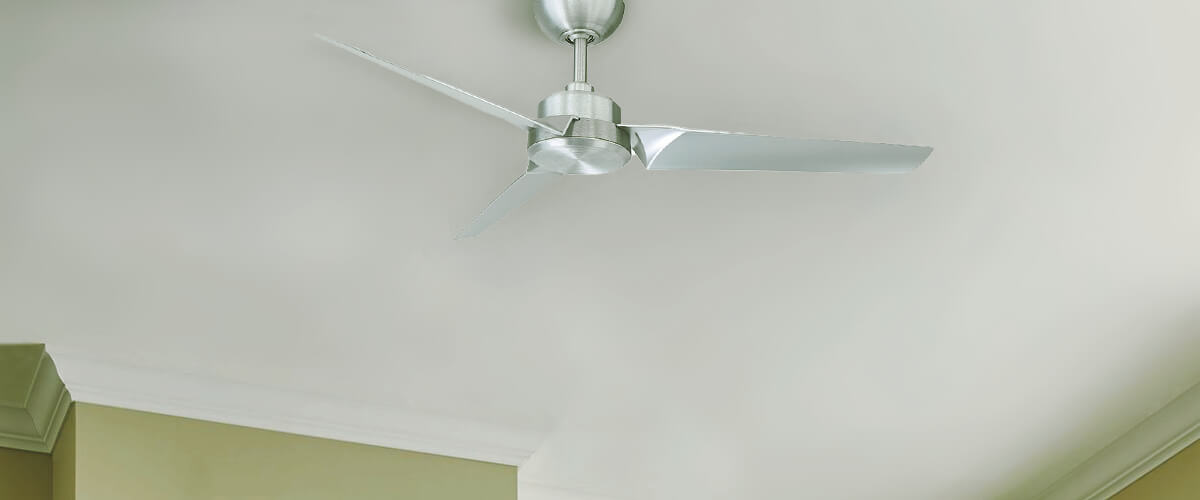 But compared to other ceiling fans in its price range, the Roboto stands out for its modern design and reliable performance. While it may not have all the most interesting features of more expensive models, it is a solid choice for those on a budget who still want a fashionable and functional fan.
I was impressed with the sleek and stylish design of the Roboto ceiling fan. The black finish and simple lines give it a modern, minimalist look that complements any contemporary decor. I also appreciated the motor's efficiency, even at the highest speed setting. Yet, it would be good if it functioned quieter.
Key specs
Power: 120 Volts.
Wattage, W: 38.
Size, inch: 52.
Blades: 3.
Mounting type: downrod.
Reversible motor: yes.
Remote control: yes, app operable (Wi-Fi, Bluetooth).
Works with: Amazon Alexa, Google Assistant, Ecobee, and Samsung Smart Things, Smart Home Enabled.
Speed adjustment: 6 speeds.
Timer: yes.
Special features: LED, dimmable.
Pros
Offers the perfect blend of affordability and qualitywithout compromising on performance or style.
Quiet and powerful motor delivered an efficient airflow and created a refreshing and comfortable environment.
Remote feels like those from more expensive fans and offers next to the same functionality.
Cons
For those with a penchant for rustic aesthetics, the Roboto ceiling fan may not align with their preferred design style.
The level of control over lighting may be more limited compared to my leading choice.
How to choose a ceiling fan for a vaulted ceiling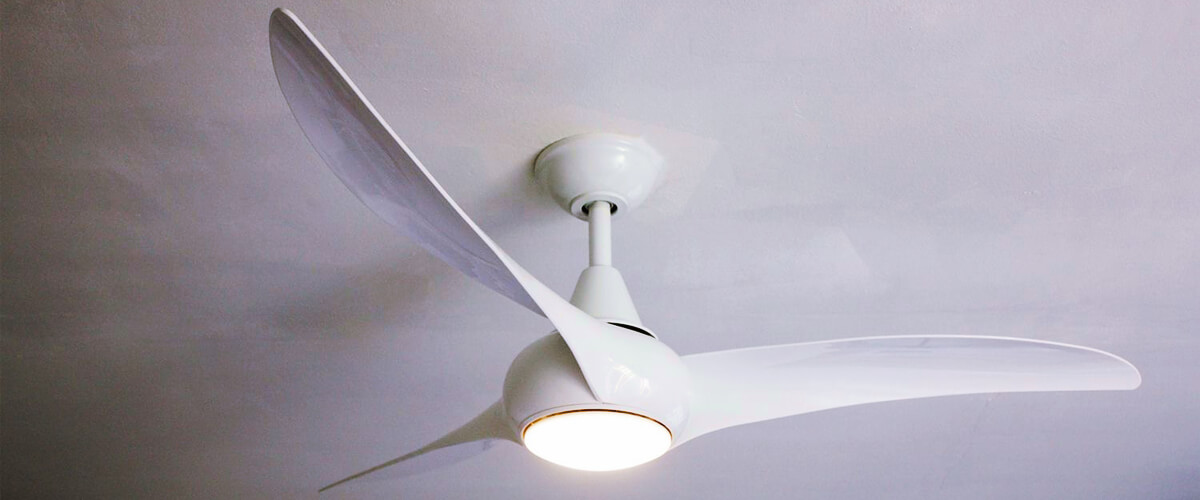 Choosing the right ceiling fan for rooms with vaulted ceilings can be challenging, as factors such as ceiling height, blade design, motor performance, control systems, and style must be considered. In this guide, we explore the essential features to look for when selecting a ceiling fan for a vaulted ceiling.
Ceiling height and fan size
The ceiling height is a crucial factor when choosing a ceiling fan for sloped ceilings. A fan that is too small for the room will not circulate enough air, while a fan that is too large can create discomfort due to excessive airflow. A fan with a downrod extension is necessary for rooms with a vaulted ceiling to ensure proper air circulation and performance. The downrod length should be chosen based on the ceiling height to achieve optimal results.
Blade design and materials
Ceiling fan blades come in various designs, materials, and finishes, each with a unique impact on performance, aesthetics, and durability. Wooden blades provide a warm and natural feel, while metal blades offer a modern and sleek look. Plastic blades are lightweight and easy to clean but may not be as durable as their wooden or metal counterparts. The blade design is also important, as it can impact the fan's efficiency and noise level.
Motor performance and energy efficiency
The motor is the heart of a ceiling fan, and a high-quality motor is necessary for optimal performance and noise reduction. AC motors are the most common type of motor in ceiling fans, but DC motors offer more energy efficiency and quieter operation.
Control systems and smart features
Ceiling fans have various control options, such as pull chains, wall, and remote controls. Smart fans are becoming increasingly popular, offering voice control, scheduling, and energy monitoring features. These features allow users to control their fans from their smartphones or other home automation devices.
Style and aesthetics
Like with the case with systems and features, all manufacturers make their products diverse with their style and looks. That makes it easy to find one that complements the room's design and decor, even with the most sophisticated angled ceilings. Traditional, contemporary, industrial, and rustic are just a few of the style options available. Fans with light kits and decorative accessories also offer customizable options for those looking to add an extra flair to their room.
FAQ
How long should a downrod be for vaulted ceilings?
The answer depends on what ceiling you have. Firstly comes the angle. Thus, every degree of a slope requires an additional inch in length of downrod. For example, my ceiling had a 15-degree angle, so I used a 15-inch download.
Can you mount any ceiling fan on a vaulted ceiling?
The answer is yes in 90% of cases, but as long as they come with a compatible angled mounting kit. However, checking the manufacturer's specifications before purchasing is essential to ensure compatibility.
What happens if you don't vent the vaulted ceiling?
There is a risk of accumulating moisture, resulting in mold, structural damage, and poor indoor air quality. In addition, hot air can get stuck in the ceiling, resulting in increased cooling costs and discomfort. Therefore, ensuring adequate ventilation through proper insulation, roof vents, and exhaust fans is important.